Western Springs Illinois Kitchen, Bathroom and Basement Remodeling
Chicago Suburbs | Kane County | Dupage County
Western Springs Home Remodeling and Renovations
Renovating a home in Western Springs can be an excellent way to rejuvenate a house, but it's also a challenging home improvement project. Planning is critical for a successful home renovation. The quality of the initial planning phase can make or break the project, as insufficient planning can lead to costly errors and mistakes.
When you're renovating your home, your objective is to improve its appearance and comfort. Therefore, it's crucial to approach the home improvement project as a business plan or a new project that requires starting from scratch.
If you want to upgrade your home without breaking the bank while still achieving an aesthetically pleasing outcome, it's crucial to plan the entire process thoroughly.
Western Springs Remodeling Project Pictures
Naperville IL Master Bath Remodel Project Photos
Bryan Sebring
2023-09-25T13:34:25-05:00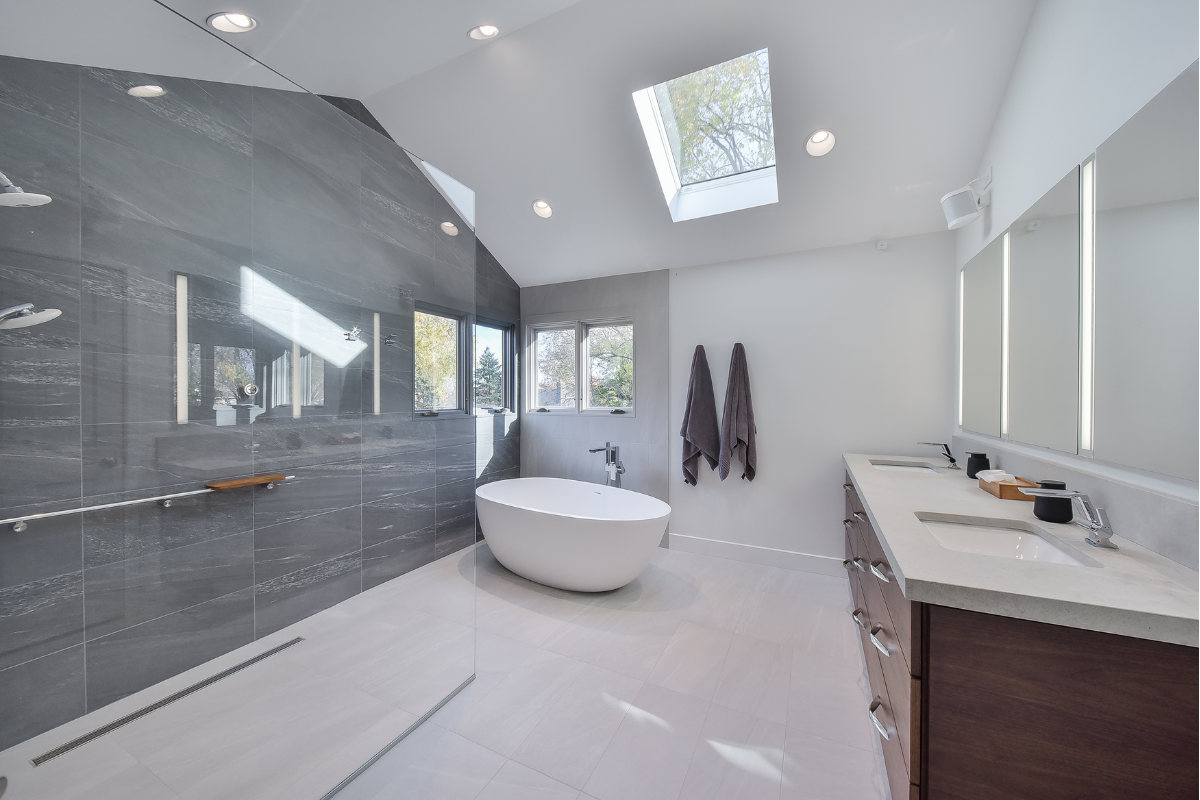 Western Springs Remodeling Reviews
" As soon as I had a meeting with Bryan Sebring and he drew up an initial proposal, I knew I was done shopping for contractors. When you meet someone that you know you can trust implicitly to assist you with major decisions and send you to good suppliers, and whose staff you can trust in your house for 8 weeks without any homeowner supervision, your decision transcends price… "
" I would highly recommend Sebring! All those that were involved in my home remodel were both professional AND nice. Bryan provided all services that were expected and on some occasions went beyond with what was necessary just to make us happy. Thanks Sebring! "
" My experience with Sebring felt right from the start – I felt comfortable and at ease from the first meeting and throughout the entire project. The entire team was extremely friendly and professional and always helpful! They were prompt in answering questions and returning calls and very accommodating. They were clean and courteous and respectful, which I truly appreciated. I would definitely recommend using Sebring!! "
" We used Sebring to remodel our bathroom. They were very professional and the end result is just beautiful! Everyone was prompt, courteous and very skilled. The price was very fair. Justin, in particular, went out of his way to make sure everything was perfect! I highly recommend Sebring! "
Western Springs Kitchen Remodeling and Design
Undertaking a kitchen remodel in Western Springs can be a challenging endeavor, but it can also be incredibly advantageous. Not only does it boost the value of your property, but it also transforms the ambiance of your entire home. As the heart of the house and a hub for numerous family activities, your kitchen should exude warmth, comfort, spaciousness, and hospitality. If your Western Springs kitchen fails to embody these characteristics, then a renovation is what it needs to revive its liveliness.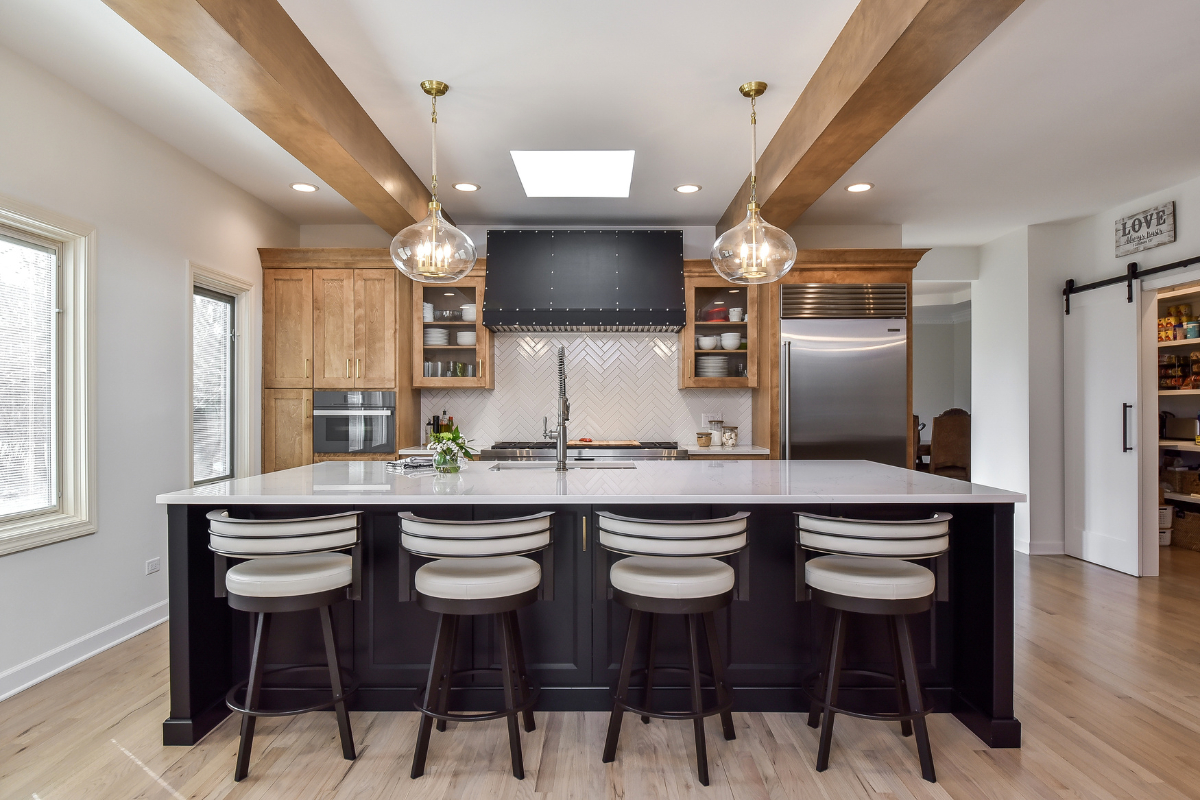 Whether you're designing a new house or renovating an existing one, optimizing storage space and decluttering to create a functional living space is essential. The kitchen is a prime area where proper storage solutions can alleviate storage issues. If you're on a budget, consider making your own kitchen cabinets or storage units using recycled materials or purchasing them from thrift stores.
As the homeowner, you have a unique understanding of your kitchen space and storage requirements. Crafting your own DIY storage cabinets not only saves money and repurposes existing materials, but it also ensures that you create what you need. Alternatively, if you already have good storage cabinets, you can repaint them for a refreshed and updated appearance.
However, if you're looking to upgrade everything and ensure everything is in order, hiring a professional contractor is recommended. It may save you time and money in the long run.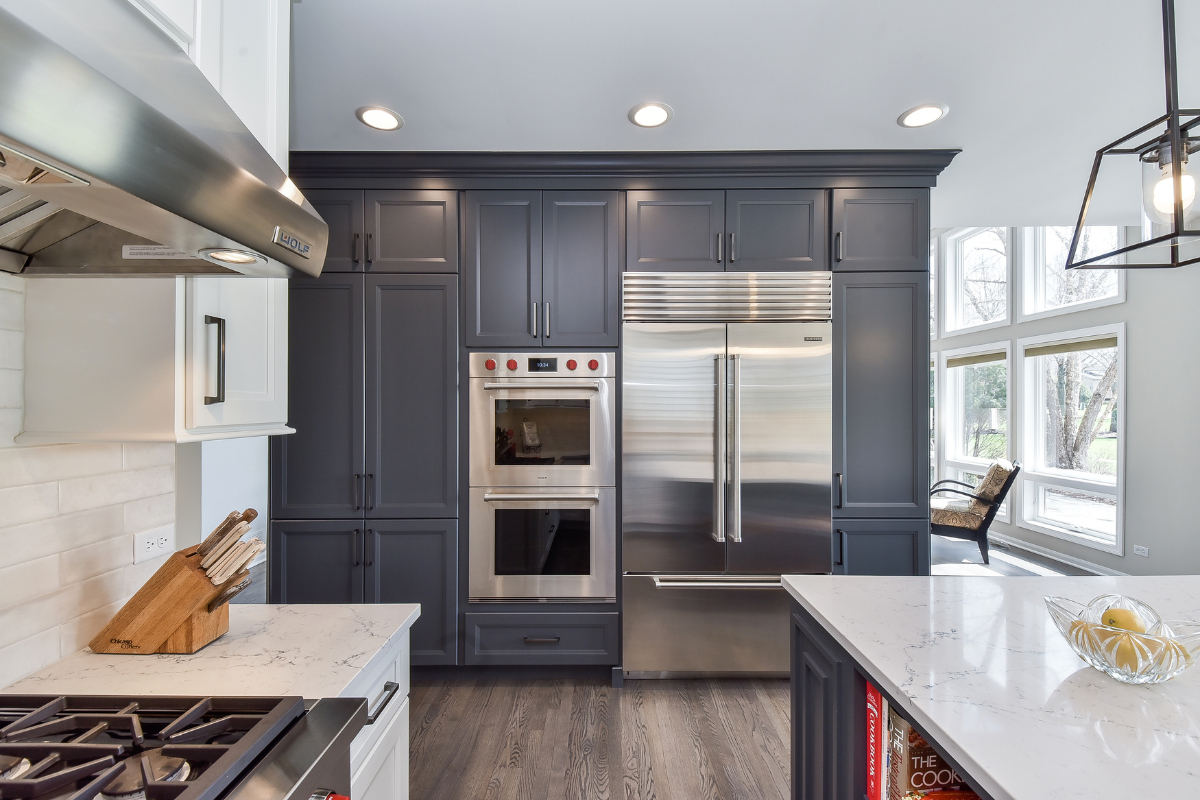 COLOR PALETTE:
Consider your lifestyle and personal preferences when selecting a color scheme for your living space. For example, if you enjoy outdoor time, consider opting for shades of blue or green. White may be a perfect choice if you prefer sleek, modern designs. Consider using darker hues such as brown, taupe, or navy blue for a warmer, cozier atmosphere.
Consider creating an accent wall where a single wall stands out to add more visual interest to your space. You can achieve this by painting it a contrasting color, covering it with shiplap, or using mosaic tiles to create a unique texture.
Kitchen Remodelers Western Springs
Kitchen Remodelers Western Springs
We have a wealth of experience in executing kitchen renovation projects, and you can trust us to manage your kitchen remodeling project seamlessly. Our services encompass every step of the process, from designing the layout to building out your new space.
Western Springs Kitchen Backsplash
Given that you'll be spending a significant amount of time around the sink and stove, it's important that these areas look visually appealing. To enhance these areas, consider creating a unique and eye-catching backsplash that accentuates the space. The market offers a plethora of distinct and striking backsplash variations to choose from.
Kitchen Countertops Western Springs
Regarding kitchen countertops, options like marble and quartz are popular choices that offer both durability and a luxurious feel. Granite is another popular option for high-end kitchens, although it requires more maintenance. Remember that natural stone countertops such as marble, granite, rock, and quartz tend to be the most expensive. If you're on a budget, a wood countertop can provide a warm, farmhouse look at a more affordable price point, as long as it's properly treated and sealed.
Select a countertop sink matching your other appliances to create a cohesive look. Consult with your contractor or kitchen remodeler to explore options and determine which countertops work best for your remodel. Our team has garnered high ratings from clients on various platforms like Houzz, Google, and more, attesting to the quality of work our remodelers provide. Rest assured that we are not your average contractor!
When it comes to kitchen flooring, options range from budget-friendly tile or laminate flooring to more expensive options like hardwood and natural stone. Your budget will play a significant role in determining which flooring options you can consider.
Experienced Kitchen Remodeling Western Springs
Sebring Design Build boasts over 15 years of experience in kitchen remodeling in Western Springs. Our team has worked on various projects, from vintage to contemporary designs, and we take pride in helping our clients create their dream kitchens. Whether you need help with your kitchen floor plan or cabinets, we can provide the services you need to achieve the kitchen you have been dreaming of. If you are planning to update your kitchen, contact our kitchen remodeling team today to schedule a free consultation at your Western Springs location. We're committed to delivering high-quality workmanship and exceptional customer service to all our clients.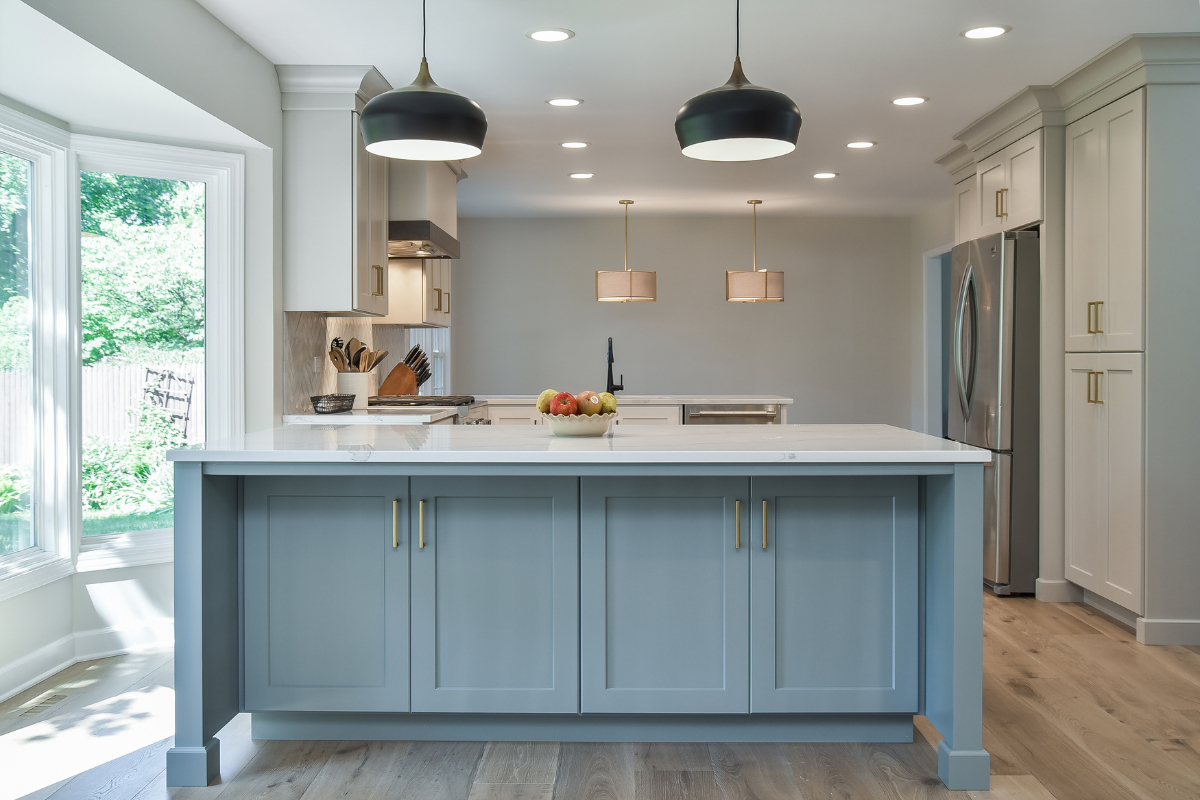 Western Springs Bathroom Remodeling
If you're tired of your outdated and uninviting bathroom, our bathroom remodeling services in Western Springs can transform it into a comfortable and elegant space. Whether you need to fix a leaky faucet or update your entire bathroom, our professional team has the skills and experience to do the job right.
At Sebring, we take pride in our decades of experience and expert craftsmanship in bathroom renovations. Our team has completed countless bathroom remodeling projects, ensuring each client's vision is brought to life. We can do everything from updating the flooring and lighting to installing new fixtures and vanities.
Visit our showroom for examples of our work, or schedule an appointment to discuss your bathroom remodeling project with us. With our expertise and dedication, we can make your dream bathroom a reality.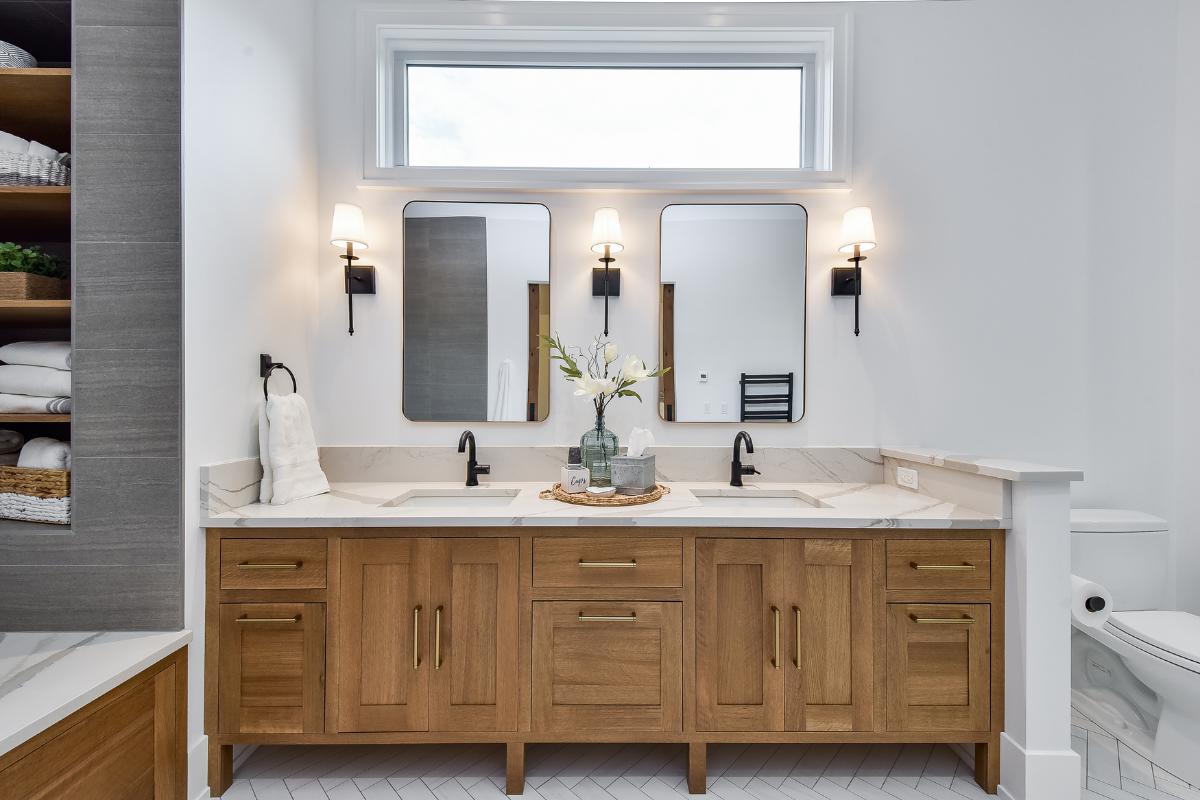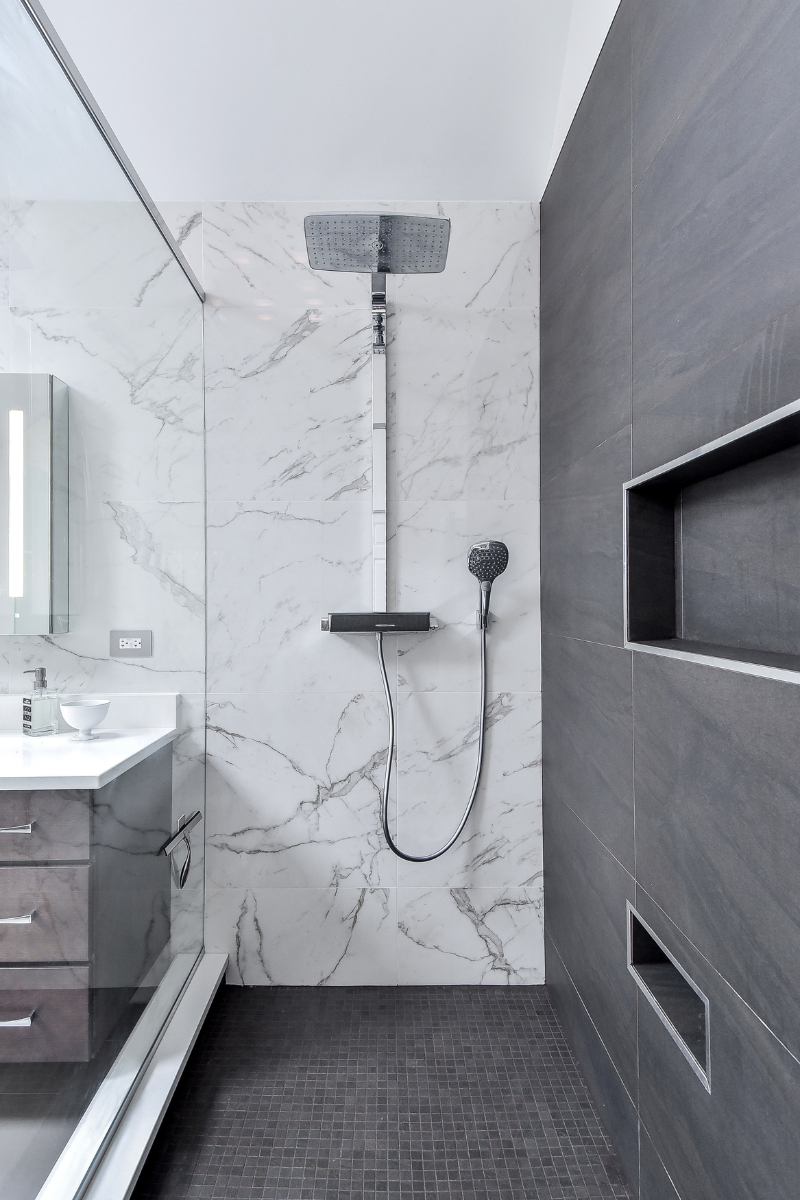 Western Springs Bathroom Design
When planning a bathroom remodel in Western Springs, it's important to prioritize functionality, comfort, and aesthetics. A well-designed bathroom should look great and provide a practical and comfortable space for your daily routine.
Our bathroom remodeling experts at Sebring can help you achieve this balance by providing professional design and construction services tailored to your needs and preferences. Whether you're looking for a sleek & modern bathroom with high-tech features or a cozy and rustic space with natural elements, we have the experience & expertise to bring your vision to life.
Some additional ideas to consider for your Western Springs bathroom remodel include the following:
Installing a freestanding bathtub for a spa-like experience.

Incorporating smart technology, such as a voice-controlled shower or automated lighting.

Adding natural light through skylights or large windows.

Installing a double vanity for added storage and convenience.
No matter what your goals are for your bathroom remodel, we are committed to working with you to give you the perfect space for your lifestyle and budget. Contact Sebring Design Build today to schedule a consultation and get started on your dream bathroom remodel in Western Springs.
Planning Your Bathroom Remodel in Western Springs IL
At Sebring Services, we understand that a bathroom renovation can seem like a daunting task. However, we are here to help make the process as smooth and stress-free as possible. From the initial consultation to the final walkthrough, Sebring will guide you every step of the way.
During our consultation, we will discuss your vision for your bathroom and provide you with a detailed quote for our services. We will also answer any questions you may have and provide you with options that fit within your budget.
Once we have a plan in place, we will begin the renovation process, which includes demolition, installation of new fixtures, tiling, and painting. Our team will handle everything, from plumbing and electrical work to the final finishing touches.
At Sebring Design Build, we take pride in our craftsmanship & attention to detail, ensuring that every aspect of your bathroom renovation is completed to the highest standard. If you are ready to transform your bathroom, contact our staff today to schedule your free consultation.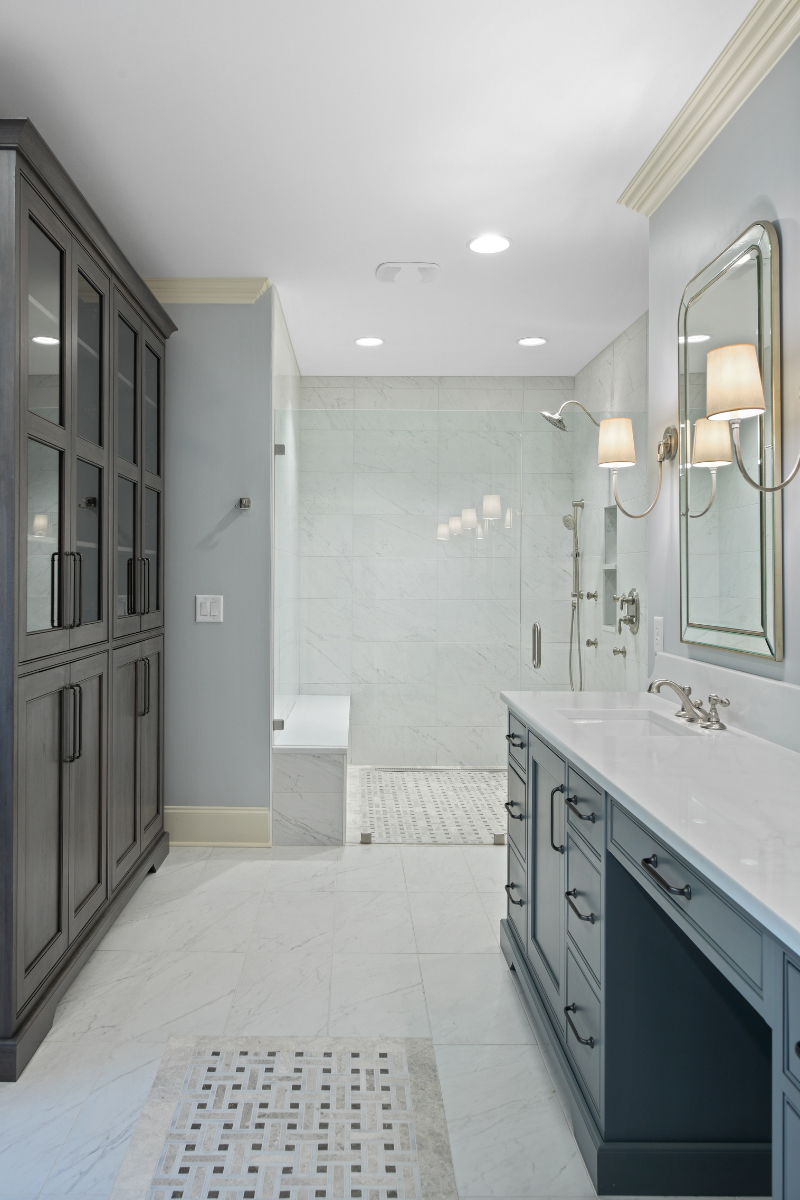 It's incredible how many affordable, yet high-quality bathroom renovation supplies are on the market. Even if you don't plan to add any new fixtures, there are still plenty of ways to upgrade your existing bathroom, such as changing the color scheme, repainting cabinets, and adjusting the shower pressure.
If you're on a tight budget, the cost of remodeling your bathroom floor may seem daunting. However, if you can't find a flooring option that fits your budget, you can focus on upgrading other elements of your bathroom that complement your chosen flooring design.
Western Springs IL Basement Finishing
The basement can offer many advantages as a livable space due to its open and spacious layout. Whether you need additional living space in your Western Springs home or want a new entertainment or relaxation area, a renovated basement can fulfill these needs. Instead of using it for storage or leaving it cluttered, transforming your Western Springs basement could benefit your family significantly.
CUSTOM BASEMENT FINISHING & DESIGN
At Sebring Design Build, we have years of experience helping homeowners in Western Springs renovate their basements. We understand basements have endless possibilities for creating a livable space, from adding an extra bedroom to building a home theater or entertainment stage.
We recommend starting by considering your most pressing needs. Do you need more space? Do you need more storage? You may need an additional bedroom, a play area for the kids, or a place to entertain guests. Whatever your space problems, renovating your Western Springs basement can provide a solution. With our expertise and your vision, we can create a space that is functional, comfortable, and tailored to your needs.
Renovating your Western Springs basement is always a good idea, even if you don't have an immediate need for extra space. Leaving it unused can lead to the growth of pests and mold. Instead, consider transforming it into a fun and creative space. At Sebring Design Build, we've seen clients turn their personal collections of sports, car, or travel memorabilia into a personal art gallery. Others have created themed spaces for use as an escape cave or entertainment center. We've also encountered great ideas like sound studios, wine cellars, and media rooms.
Consider creating a combo space that perfectly complements your needs. For example, if you're considering a home cinema or game room, why not add a bar area or small kitchenette? Adding an extra bathroom to a bedroom will also help relieve pressure on the bathrooms upstairs. Other excellent combos include:
A library and family sitting area.

A children's toy room and storage area.

A storage room and personal art and craft space.
Reach Out for Basement Remodeling in Western Springs
Sebring Design Build offers professional basement remodeling services in Western Springs, backed by a skilled team with decades of experience and deep industry knowledge. Our team has completed numerous basement renovation projects, and we understand the key elements that make for a successful renovation. Our clients appreciate our professionalism, passion, and innovative approach.
To discover the benefits of our exceptional home remodeling services, contact us today to schedule a free, no-obligation consultation with our experts.
How to Plan a Western Springs Remodel
Over the years, Sebring Design Build has gained extensive experience in remodeling homes in Western Springs, and we have learned that thorough planning is key to the success of any renovation project. That is why we are committed to a meticulous planning process that we apply to every project we undertake. Through careful planning, we have been able to navigate unforeseen challenges, stay within budget, and complete projects on schedule.
For anyone considering a home remodeling project in Western Springs, we cannot stress the importance of planning enough. It is essential to think through every detail, from the budget to the timeline, to ensure a successful outcome. Whether it's a small project that can be documented on paper or a larger one that requires specialized software, we are here to assist you in creating a comprehensive plan that meets your unique needs. So don't hesitate to contact us today and get started on your home renovation journey!
Our team of experts has extensive experience renovating homes in Western Springs, spanning several decades. We have faced many challenges along the way, but nothing has been too big for us to handle. Our core values of integrity, professionalism, and excellence are infused into every project we undertake, and we take pride in our passion for home renovations.
If you are contemplating a home makeover in Western Springs, we would be thrilled to be of assistance. Schedule a free, no-obligation consultation with our experts today to discuss your project in detail.