Family Friendly Basement Finishing in Naperville
It was your standard suburban basement. About one thousand square feet. Unfinished. Mechanicals. Sump pump. Support poles in the middle of the room. It was an empty space peppered with miscellaneous storage that had the potential to become a family's dream basement. And that's exactly what we turned it into. Now it's a multi-functional entertaining space with loads of beautiful storage to tuck away games and toys. It's practical and beautiful, a combination most homeowners crave.
The Features
For this basement remodel in Naperville, IL, the homeowners needed their finished basement for several things: a movie/TV viewing area, a place to play games, access to food and drink, plenty of storage, a guest bath, and, of course, space for their air hockey table. The sizable, u-shaped basement provided enough room for us to create individual, yet open spaces for each activity.
With a kitchenette, extensive storage and full bath, there's no reason to have to hustle upstairs for anything. The sizable fridge can easily accommodate the largest party trays and an array of beverages. The peninsula seats up to four people, while the dining table holds six. In this new basement, the motto now is definitely the more the merrier.
Related:  45 Basement Kitchenette Ideas to Help You Entertain in Style
The table is perfect for casual dinners and snacks, or playing any variety of games. And this family has a lot of games! We constructed 10 feet of wall storage. Each drawer and shelf is approximately 21 inches deep. Everything from Pictionary to Trivial Pursuit fits in this wall—not to mention all the kids' dolls, Legos, etc.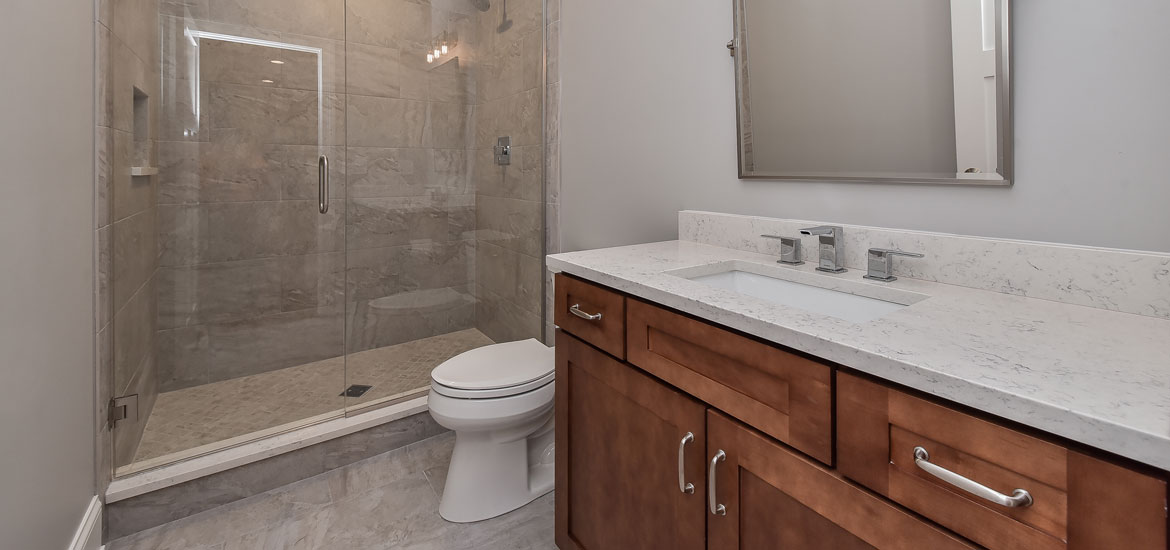 The guest-friendly full bath was not an underground afterthought like many basement bathrooms. More than just a powder room, we built a three-piece bathroom, complete with a roomy shower and sizable sink. The warm woods of the cabinets balance the cool tile and sleek chrome fixtures. It's bright and open, and most importantly, doesn't feel like it's in a basement.
This basement also is the ultimate in durability. The Wellborn shaker cabinets, used in both the kitchen and storage wall offer easy washability—even in white. So you don't have to worry about sticky fingers damaging the finish! Their transitional style blends in with any decor. Even if these homeowners' tastes change over the years, and they want to update wall color and couches, their cabinets remain timeless.
The engineered wood flooring also will stand the test of time and stand up to toy trucks, pets, you name it. It's the perfect choice for basement remodeling. But it wasn't the only flooring choice for these Naperville homeowners. To make things a bit cozier on the couch, the homeowners opted for carpet in the TV area.
Some more information that may be helpful: Hardwood Flooring Trends: Our Comprehensive Selection Guide

The Challenges
Of course, the road to a an ideal basement isn't always a straight line. While finishing a basement, there are always some twists and turns, challenges that change the process and lengthen the timeline. Sometimes they're major; sometimes they're minor. Fortunately for this family, they were minor. Because this was an unfinished basement, there was no demo required. That alone tightened the timeline on this Naperville basement remodel.
One of the first challenges, common to most basements, is a support column. Do you want to incorporate it into a wall or bar? Do you want to make it a focal point with detailed trim work and rich stains and paints, or do you want to merely blend it in with the rest of the decor with simple drywall and paint? As with all remodeling decisions, what you decide depends on your budget and your design preference. In this instance, the homeowners decided to keep it simple: paint it white with base molding on the bottom.
A second challenge, unique to this homeowner, was the size of the refrigerator. While most homeowners would choose smaller refrigerators in basements, these homeowners opted for a full-size refrigerator. This required us to use counter depth for the cabinets and remeasure for space we don't normally have to accommodate.
And while we normally would use a bench to hide sump pumps, that would have blocked the TV. In this case we used removable carpeted step to hide it, providing easy access when necessary, but keeping the mechanical element hidden.
The Result
Even though this basement remodel has many of the features homeowners want, we always kept our work unique to them and in some cases, incorporated special elements to accommodate their specific needs. Some tech savvy features include phone-app controlled lights and separate climate control. The climate control keeps the basement just the perfect temperature. After all, basements tend to be cooler than the rest of the house, so this is a great additional feature.
In addition, we included extra security features for the door to the unfinished portion of the basement. The door is solid and includes a deadbolt to deter potential intrusions.  Here are some more security suggestions to consider: How To Secure Basement Windows: 7 Tips for Home Safety.
We also built a cozy reading nook for the children under the stairs, turning an underutilized space into an inspired one. It's a special place for children to sneak away and get lost in a good book.
You will love this blog too:  41 Cozy Nook Ideas You'll Want in Your Home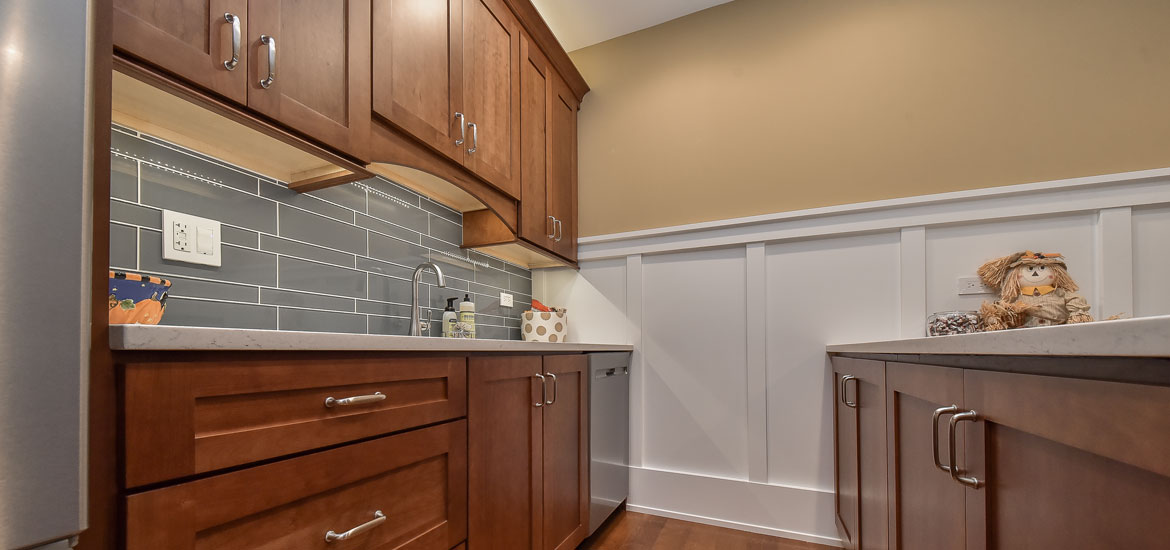 Basement remodeling has its share of temporary potential pitfalls, but the rewards, particularly when they are suited specifically to you, are enduring. As remodelers, it is our job to turn your house into a home, and we work with you to do it. From picking backsplashes and flooring to figuring out what to do with those pesky support columns, we can help you put the finishing touches on finishing a basement. After all, we don't just build new basements, we build relationships with our clients. We listen; we collaborate; we create homes.
Thinking about finishing a basement? Naperville your home town? Sebring Design Build specializes in basement finishing in Naperville, IL.
Other Great Articles to Read:
Your Basement Planning Guide from the Ground Up