So what does it take to achieve this level of quality in a finished project?  There's a lot of work that goes on behind the scenes that most people don't realize.  Having a process and organizational tools is a huge factor in the success of any project.  Having a knowledgeable designer with access to unique materials can turn an average project into a unique luxurious space!  Regardless of the size or scope of your project, every project will be managed through our online scheduling and communication software system.  The details are one of the most important parts of the project.  It's important for us to get them right the first time!
Project Management Process
Here at Sebring Services, we use an online organizational tool called Co-Construct.  This software program allows our clients to fully communicate their concerns, ask questions, and clarify any changes throughout the duration of their project.  All internet conversations are securely and neatly organized under the message tab so that nothing gets lost. All of these messages are sent to the project manager and the rest of the production team.  In the event the project manager is not available, another member of the production team may respond on their behalf.  These messages can range from simple no brainer questions to client concerns that are more demanding to resolve.  The ultimate goal is to ensure every message, whether minimal or very involved does not fall through the cracks.
Our clients may also view their project schedule to see upcoming events, approve material selections and manage their project finances.  All of these tabs, with exception to the schedule, are confidential and require the client to set up a password to use the program.
Our vendors and partners also have access to each project.  Their access is limited, but allows them to see the schedule and project specifications.
Captivating Cabinetry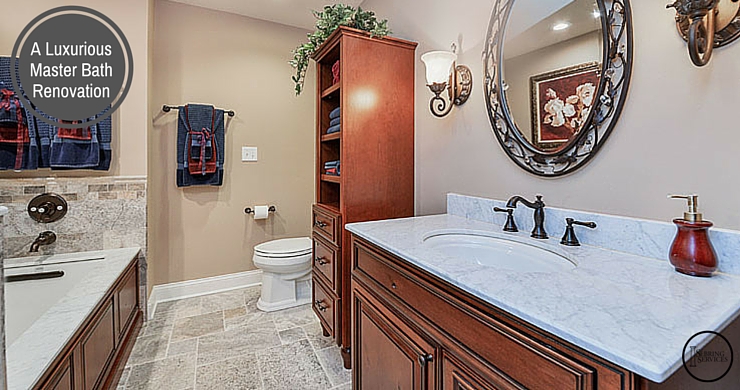 Every Sebring Services Client has different needs and taste.  This particular client chose to keep her tub and dress it up!  Instead of doing the typical tile tub deck, she opted to have a cabinetry panel installed on the face of the tub.  The top of the deck is a piece of White Carrara marble that matches the vanity top and shower pieces.
We removed the linen closet that was in the original plan and replaced it with a linen cabinet. This particular cabinet line offers a "knotty cherry" wood species with a chocolate glaze on the doors and drawer fronts.  The vanity & linen cabinets are furniture style.  This means the cabinets are on legs and open underneath.  You will notice what appears to be an imperfection on the false drawer front of the vanity cabinet above the left door.  This is a knot in the wood and is meant to be noticeable.  This look tends to be rustic and is becoming more popular.  The cabinet doors include soft close hinges and the drawers are full extension with soft close as a standard feature.
Stunning Stone & Magnetic Marble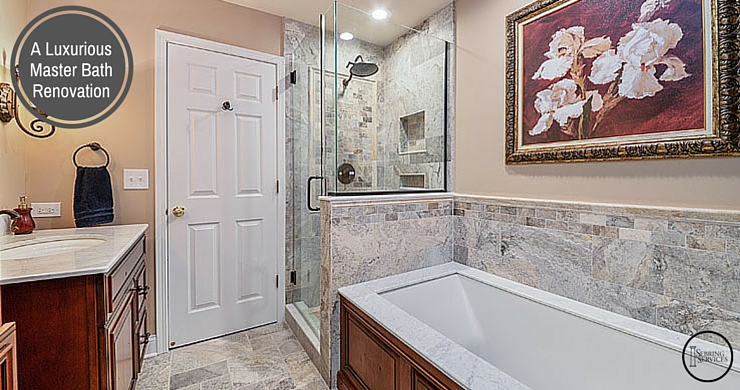 The tub surround, shower walls & floor is the "Carlos Silver" travertine.  The advantage to using a stone material like travertine are all of the available options.  This particular stone tile comes in several sizes and patterns with trim molding pieces. The floor is a "Versailles" pattern.  This pattern uses three different size tiles.   The tub surround is an 8″x18″ wall tile with a mosaic accent strip above topped off with a chair rail molding.  We used the same tile and accent pieces on the shower walls.  The niches are framed with pencil tiles and the shower floor is a 2″x2″ mosaic.  All pieces are from the same travertine family.  It is worth noting that every decision made in a bathroom can affect the budget, learn clever ways to save money in this blog article.
Take a look at Hatfield Builders and Remodelers website for additional master bathroom ideas.
Pretty Plumbing
The plumbing fixtures we used were a mix of Kohler and Moen products.  These brands have stood the test of time and have expanded their profiles so that just about any look a client is looking for may be found.  You do not have to spend a lot of money on plumbing fixtures to get a quality product.  Here is a list of the fixtures that were used:
Kohler Underscore 5′ Drop-In Tub
Moen Weymouth Tub Spout, Shower Valve & Shower Head and Lavatory Faucet in oiled rubbed bronze finish.
Kohler Devonshire Comfort Height Toilet with Moen Weymouth Tank Lever
Kohler Devonshire Undermount Sink
There are so many decisions when starting a bathroom remodeling project, take a look at this article to learn more about all of those important things to consider.
If your bathroom has seen better days and requires a face lift, our staff at Sebring Services are here to help.  Whether you need assistance re-envisioning your bathroom layout to maximize its potential or have lived in the space so long that you need a fresh perspective to see your space differently, we are here to assist.  This luxurious master bath renovation in Lisle, Illinois could be yours, Contact Us to get started or get your free copy of our E-Book below.