BATHROOM REMODELING IN NAPERVILLE IL
CHICAGOLAND | WESTERN SUBURBS | DUPAGE COUNTY | KANE COUNTY | WILL COUNTY
NAPERVILLE BATHROOM REMODELING AND DESIGN
Waking up every morning and walking into an old, dated bathroom isn't a good feeling at all. Bathrooms are very essential rooms because our days start and end there. Consequently, it is important to renovate your bathroom if you experience water problems that may be causing more damage after each use.  Choosing the right professional contractor at this point is imperative to getting a bathroom that will last for many years to come, and ensuring that similar issues don't occur again.  We are ready to transform your nasty, old, dated bathroom into a luxurious, warm and inviting spa-like space. At Sebring, we offer professional bathroom design and remodeling services in Naperville Illinois and the entire Western Suburbs of Chicago.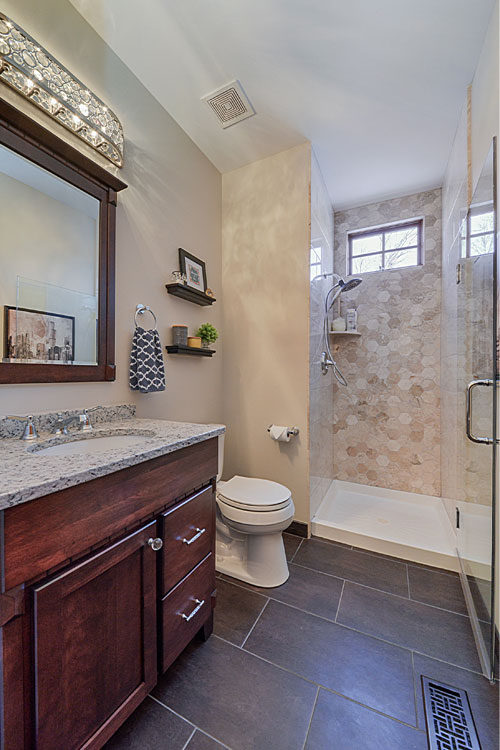 WHY HIRE SEBRING FOR YOUR BATHROOM RENOVATION PROJECT
As a full service Naperville contractor, Sebring takes pride as a professional bathroom renovation contractor. Our team of dedicated and experienced employees have what it takes to redo your bathroom completely, or simply switch out your floor tiles or countertops. Our services feature the following:
Communication: We will listen to the features that you want in your dream bathroom so as to give you what you exactly want. We prefer gathering as much information as possible right from the beginning.
Style: Our Sebring team is known for combining style and practicality in a way that suits the needs of our clients. Once you hire us, we will take the offer seriously and work hard to come up with a plan that blends your vision, ideas with our style.
Construction: We keep time and work within budget during the actual remodeling. During the process, we work smart to control dust and leave your bathroom free of debris and other construction materials.
QUALITY BATHROOM REMODELING & DESIGN
We understand that everyone in your home must use the bathroom at least once every day. You and your family get ready in the bathroom, meaning that the comfort and design of the room is crucial. We do bathroom remodels to create a new design that matches all the preferences of our clients. Moreover, a newly renovated bathroom adds a significant resale value should you decide to sell your home. Our team will help you come up with a new bathroom design and implement it to make your dream bathroom come true. You can take a small scale or large scale approach to renovate your bathroom because there are several aspects of design that you can change.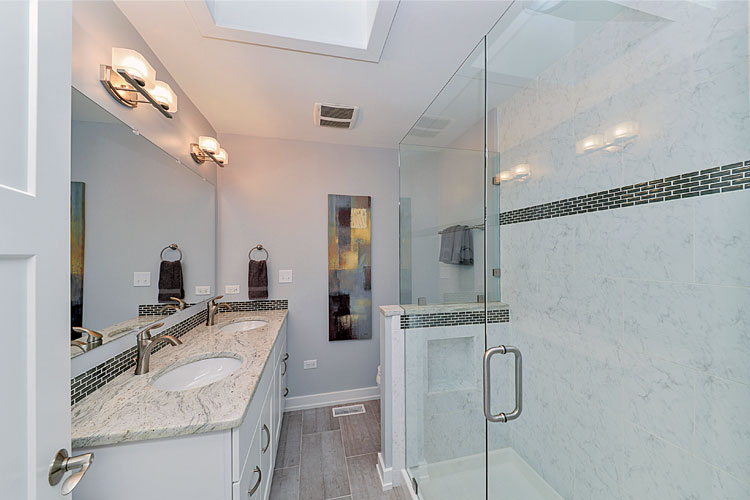 SOME COMMON DESIGN CONSIDERATIONS INCLUDE:
Changes that you want: Do you want few changes to suit your preferences better or a complete renovation to have a new bathroom?
Double sinks and extra cabinet space: Make this a must if you are considering using the bathroom at the same time with your spouse.
Choosing materials: It includes choosing materials for the fixtures, tiles and cabinets which are available from preferred vendors.
Removing the bathtub: If you are planning to remodel a large bathroom, the bathtub is rarely used unlike the shower.  Removing the bathtub will definitely enlarge your bathroom and ensure that it is spacious enough to move around.
Common services: Some of the common bathroom remodeling services include replacing old, inefficient faucets, toilets and fixtures. Others involve moving away from the normal layout, removing the bathtub and adding spa-like equipment.
Bathroom remodeling materials
Bathrooms are generally small spaces. However, they include different features which are catered for in the designing stage. A remodeling project involves the use of various materials which are classified into four major categories as outlined below.
Fixtures, toilet and sinks: They are available in different styles, colors, sizes and finish so as to fit any type of bathroom design and décor.
Cabinets or vanity: Vanity and cabinets are great features for any bathroom as they provide the highly needed storage space. As a homeowner, you have the option to choose customized cabinet and vanity style that suits your needs.
Flooring: Tiles are preferred in bathroom flooring because they are moisture resistant and come in different colors, styles and materials to match the needs any design. At Sebring, we will help you choose tiles with color and style that matches your bathroom décor.
Bath or shower: There are many shower and bath options in the market today. You have the freedom to choose a stand-alone bathtub, a standup shower or any shower and bathtub combination depending
COMMON AMENITIES FOR BATHROOM REMODELING
We have installed a variety of amenities for our clients. Some of these amenities include;
Tiles: Our team installs ceramic, porcelain, natural stone and glass tiles.
Handheld shower heads
Above toilet cabinetry
Custom glass shower enclosures
Built-in Shampoo shelves and niches
Vanity cabinet towers
Custom shower benches
Custom linen hutch cabinetry
Countertops: We have installed Cambria, Silestone, Hanstone, Granite and Ceasarstone countertops.
Heated floors: The floors can even feature programmable thermostats depending on what you want.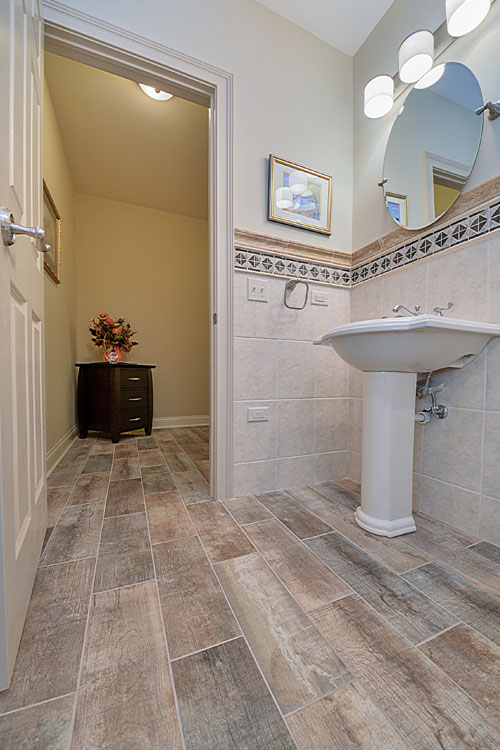 CALL US TODAY TO REMODEL YOUR NAPERVILLE BATHROOM
At Sebring, we will handle your project professionally and incorporate you throughout the process to ensure that we leave shower space that will certainly make you feel clean, relaxed and refreshed. We have successfully completed numerous bathroom projects in Aurora, Naperville, Glen Ellyn, Downers Grove, Wheaton and the entire Dupage County. In addition, we have a reliable working process from the start to finish that guarantees our clients a new luxurious bathroom. You can rely on us to handle the entire project from designing to providing materials and the actual remodeling. We will reward you with a remodeled bathroom with more sensible functionality and high quality materials.
Feel free to give us a call today, particularly if you are tired of the old layout and fixtures in your bathroom and you are ready upgrade for space, comfort and better efficiency. Also, get a copy of our free E-book, Remodeling 101. The E-book will help you when looking for the right contractor. Get in touch with us today to learn more about what we have to offer. We have been helping our homeowners in Naperville since 1999, and our experts have many years of experience in handling bathroom renovation projects. Let us know your needs today and for real, we will help you get the bathroom that you have always wanted.
BUDGETING YOUR BATHROOM IN NAPERVILLE, IL
NAPERVILLE BATHROOM PROJECTS
Derek & Christine's Master Bathroom Remodel Pictures
Bryan Sebring
2020-07-29T15:41:23-05:00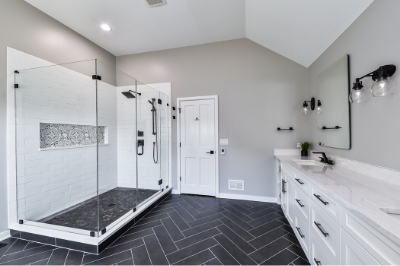 Derek & Christine's Hall Bathroom Remodel Pictures
Bryan Sebring
2020-07-29T15:40:10-05:00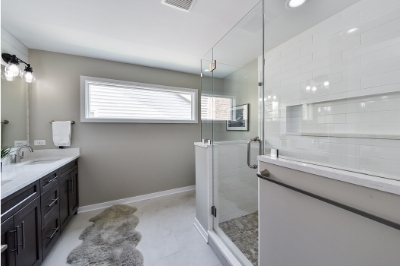 Craig & Jennifer's Master Bathroom Remodel Pictures