BASEMENT REMODELING IN WHEATON, IL
CHICAGOLAND | WESTERN SUBURBS | DUPAGE COUNTY | KANE COUNTY | WILL COUNTY
WHEATON BASEMENT FINISHING AND REMODELING
You could be standing on a treasure trove. Literally beneath your feet may lie one of the most rewarding finds of your life.  Before you start digging, we are referring to your Wheaton basement.
The basement is probably the most under-appreciated and underused rooms of any property. In fact, basement remodeling projects offer more value for money invested than any other room of a house. A finished basement does not have to be a dank, humid and airless recess of the home–it can be transformed into a bright, welcoming and warm retreat for the entire family.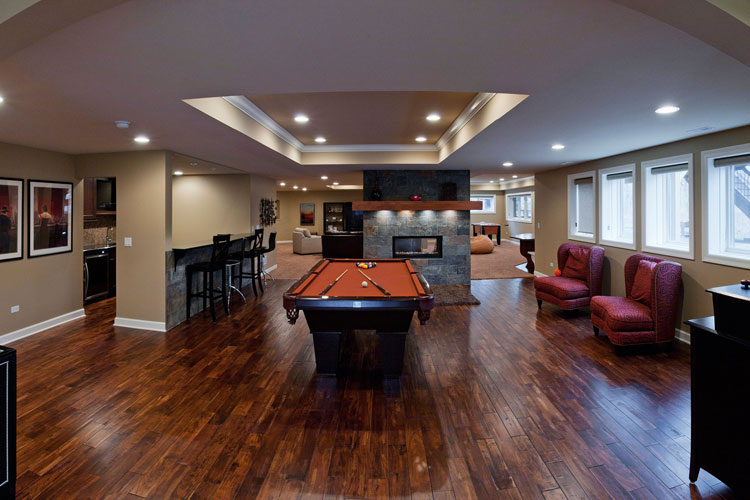 Our company specializes in creating Wheaton basements that become an essential part of the home. We have helped many home owners in Wheaton just like you over years of operation to do just that. Through this experience in basement finishing, we have fine-tuned a flawless system that allows us to mold a room to your exact specifications quickly and safely.
CUSTOM BASEMENT DESIGN IDEAS FOR YOUR WHEATON HOME
There are a myriad of options open to any homeowner looking to make use of the additional space of the basement. Some of the most common and popular ideas are:
Audio-Visual Entertainment Rooms – Just a simple couch around a flat screen or a premium home entertainment system incorporating a huge theater and associated sound system.
Game Rooms – Basements are ideal for lining up old-school arcade, pinball or foosball games. Pool and ping pong tables are other classic trends.
Bar and/or Wine Cellar – Most men dream of having their own wet bar at home, and the idea of a personal cellar has also gained popularity.
Home Gyms – An excellent idea to get the whole family more active. Basements are ideal to muffle the sounds from your workout.
Bathroom or Home Spa – Almost every family could do with an extra bathroom; and not many would deny the chance to have their own spa complete with a deluxe shower, steam room and heated floors.
Extra Bedroom – A common requirement for teenagers looking for privacy as they grow up, the basement bedroom is a very adept use of that extra space. As parents age, it is a great space for in-law suites–also for out-of-town guests.
Miscellaneous Activity Rooms – Whether you want to run a business from a home office, or need a play room for the kids to keep active or a craft room, basements are the ideal spot.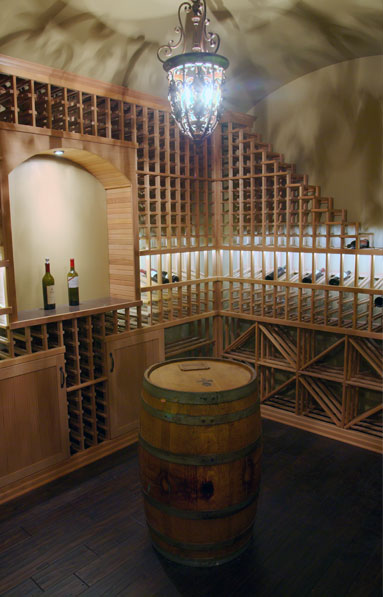 WHY HIRE SEBRING FOR YOUR WHEATON BASEMENT RENOVATION
We are a comprehensive solution to all your renovation desires. Our knowledgeable and experienced project managers and their team will coordinate all legal paperwork and permits, work together with contractors and material suppliers and be right by your side until your finished basement is ready for use. Our staff is on hand to ensure that all your concerns are addressed promptly and the most appropriate solutions applied in accordance with your instructions.
Our reputation in Wheaton IL as the company to turn to for basement remodeling is unrivaled and we look forward to turning you into a fan by creating the basement of your dreams.
BUDGETING YOUR BASEMENT IN WHEATON, IL
WHEATON BASEMENT REMODELING PROJECTS
Kevin & Julia's Basement Remodel Pictures
Bryan Sebring
2019-07-08T09:06:18-05:00
SCHEDULE YOUR CONSULTATION
WHAT OUR CLIENTS IN WHEATON SAY ABOUT SEBRING
" Sebring Services finished the basement at our home and remodeled an investment property for us. In both cases the Sebring team was organized and professional from start to finish. Communication throughout both projects was very good. The tradesmen were helpful and courteous when I visited the work site. I would use Sebring Services for future projects and I would recommend them to friends and family. "
" Overall, we are very happy with our decision to use Sebring. The project exceeded our expectations as was completed on-time and within budget. The quality and craftsmanship was excellent and each worker in our home was courteous and professional. . . "
" First I want to say, growing up with a family of contractors and working as a project manager myself, I have never worked with such professional, accountable, friendly and organized contractors as I have with Sebring. Bryan came in and was honest and frank about what our options were. We made multiple changes to the original plan and he didn't even flinch. He made the process of planning enjoyable and extremely stress free. Once his team was onsite our project manager. . . "
" Sebring recently finished a full basement remodel for us, including a finished play area, home theater, gym, storage, and a full bath. They were easy to work with, and professional from start to finish. We started out not including the bathroom and decided on Day 2 of the project to add it in. They shuffled things around and made it happen. We were faced with a tight deadline due to family coming in, and even with the bathroom being added into the project, Sebring pushed hard to make sure everything was done in time for our company, without compromising high quality work. Everything turned out great, and we use it every day!

As an aside, as a stay at home Mom, I never worried about all of the people who were coming in and out of the house. All of Sebring's workers were polite and respectful, and did a good job cleaning up after themselves. . .

. . . I wholeheartedly recommend Sebring for any remodeling project you may have. We will definitely use them again in the future if we decide to undertake any other major renovations! "
FREE REMODELING 101 E-BOOK