Steve and Sandy had the typical Naperville master bath with the giant soaking tub in the corner of the room and a teeny tiny fiberglass shower base next to it.  In the 90's, that was the trend and the definition of "luxurious", meant that you had to have this impractical monster size tub in your bathroom. But why? How many people with this kind of tub actually use it every day or more than a couple times a year?  Most people do not have time to lay around in the tub after work with a glass of wine to de-stress.  So, what's the point of having a "luxurious" master bath if you don't even use the focal point of the room?
Today's families are much more functional.  Why have something in your house, if you don't use it?  That's why the millennial trend is to forego the giant tub and get something they can use every day, and truly enjoy; a luxurious large shower!
COHESIVE COLORS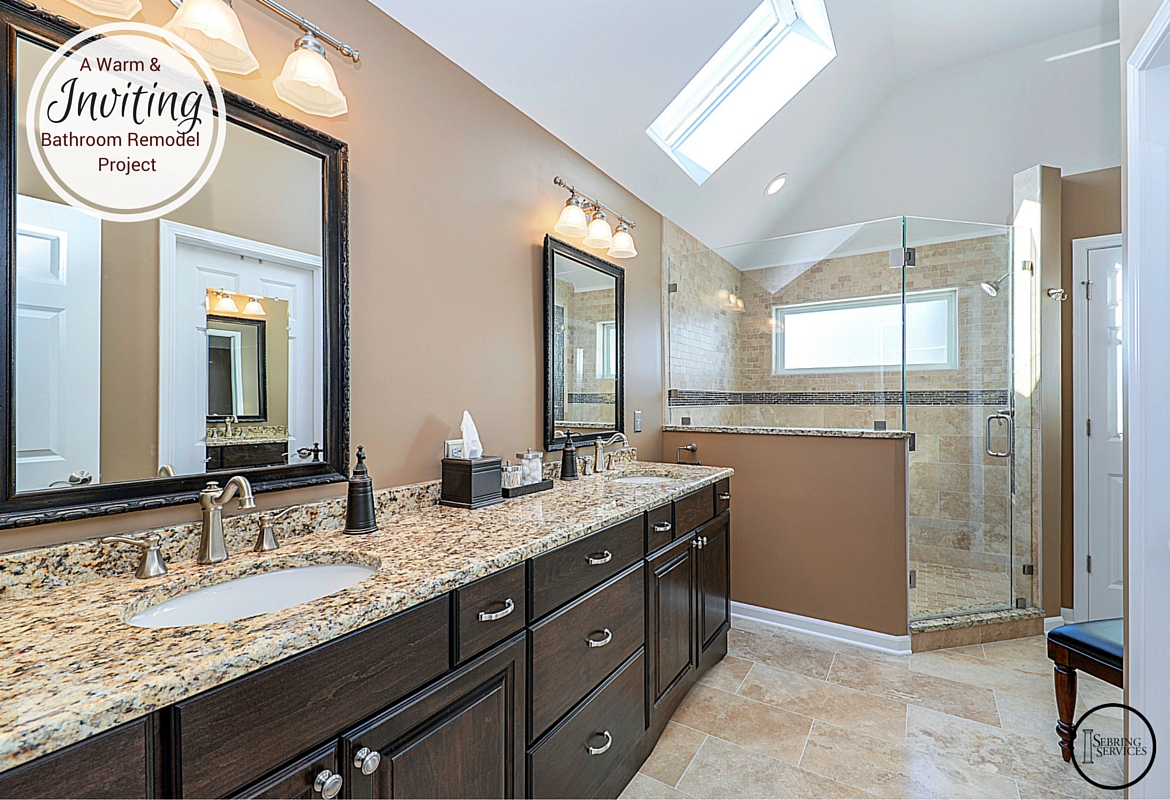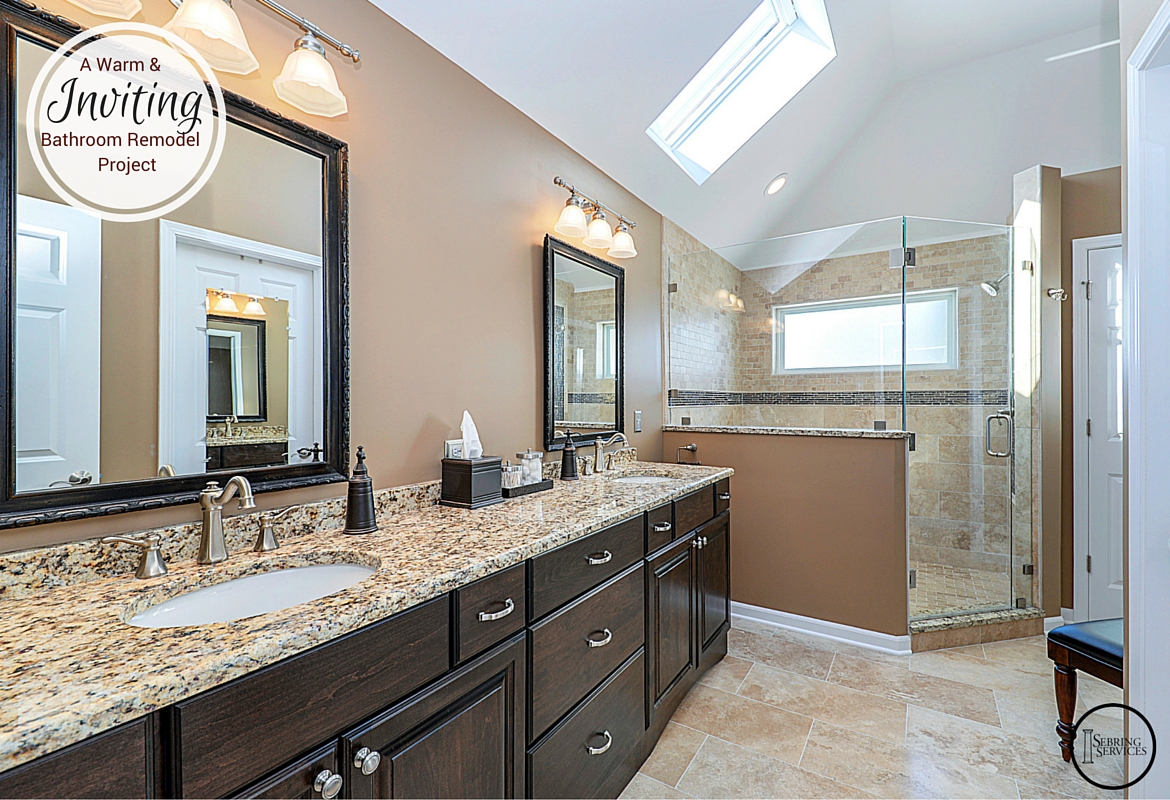 Steve and Sandy wanted their new shower to be the focal point of their bathroom, which is now located where the old tub was.  The only issue arose when considering options for the existing window above the old bathtub.  This bathroom is on the second floor and the client's did not want to lose the natural light, so we replaced the original wood window with a vinyl window that has frosted glass.  The were able to keep the window light, but now they have privacy with the frosted glass!
Brushed nickel is used cohesively throughout, which includes:
Cabinet knobs and pulls
Shower faucet and sink faucets
Shower glass hardware
Vanity lights
Towel bars, toilet paper holders, and hand towel holders.
Double sinks and dual mirrors separate the long granite vanity top that extends the length of their dark wood vanity.  When choosing granite vanity tops, many people forget that they need to be maintained from time to time.
TREMENDOUS TILE WORK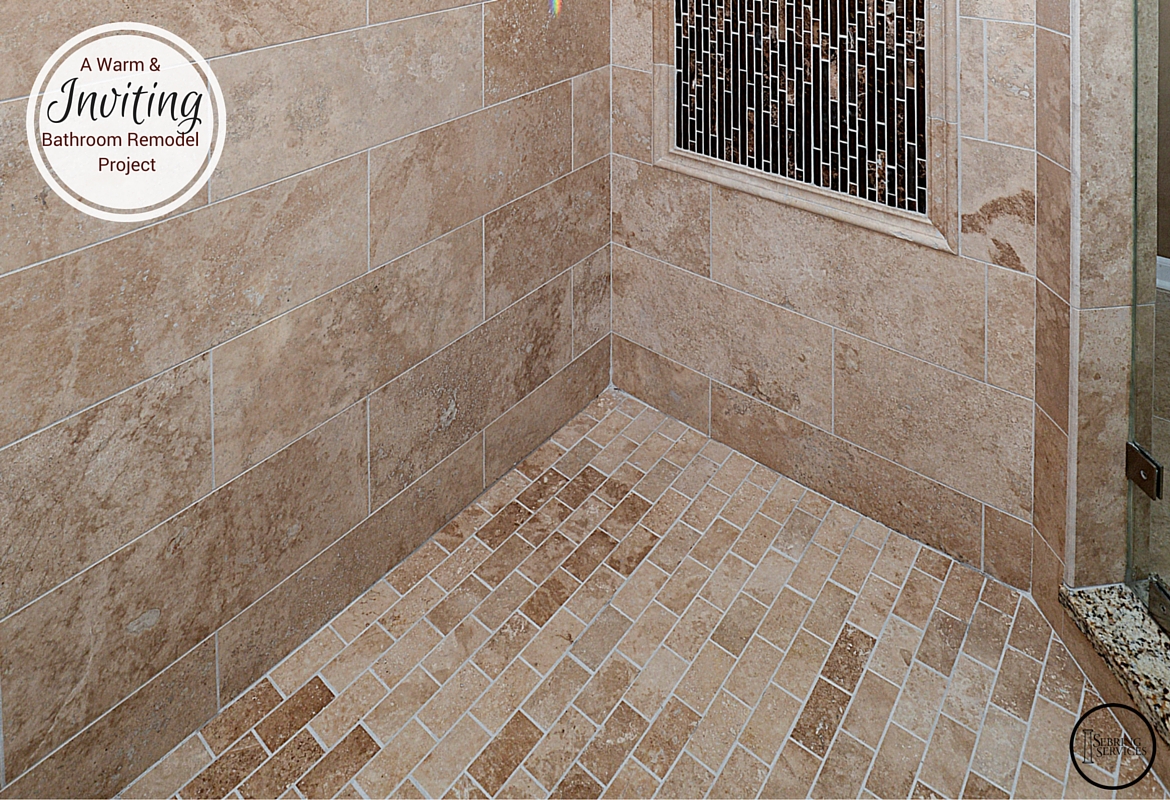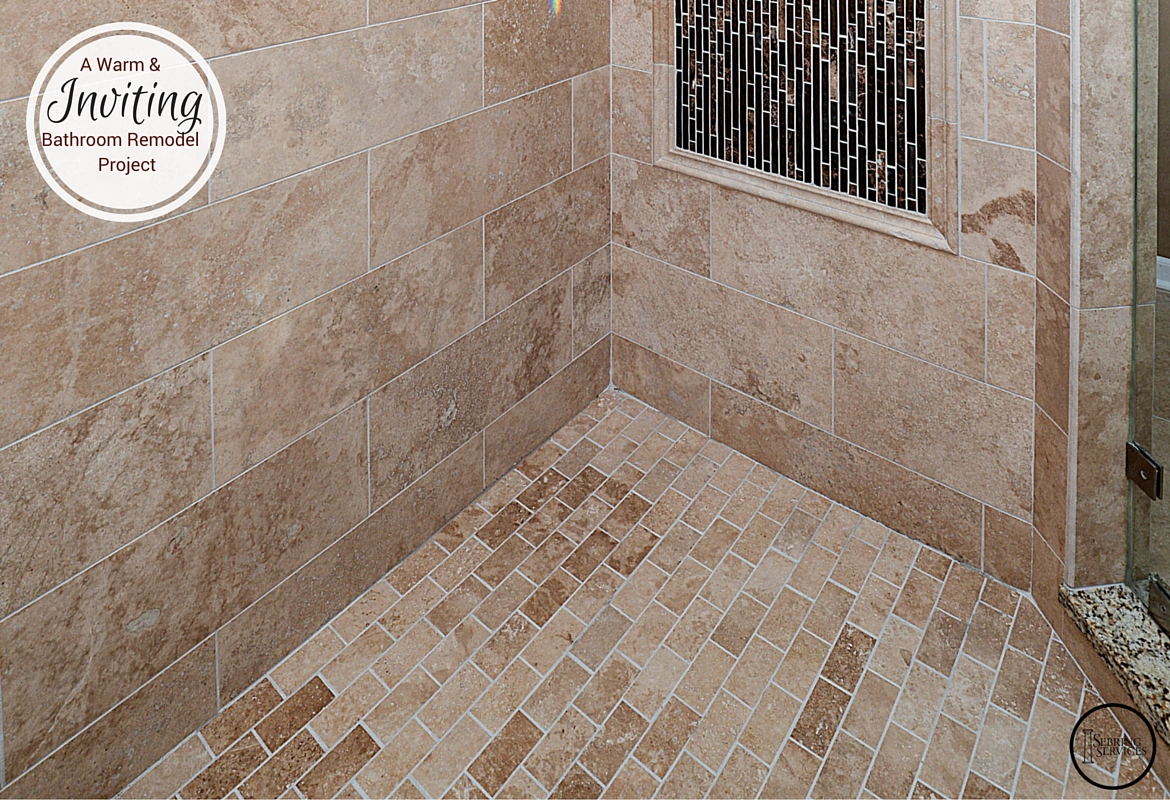 The shower is massive in size, at 6 feet long by 5 feet wide. There are many options out there when it comes to tile and something for everyone at any price point.  Steve & Sandy chose to use travertine throughout their bathroom.
They chose a warm tile color called Bucak Lt Walnut color. The tile series they used comes in a variety of sizes, patterns, and trim pieces.  They liked several profiles of the same tile, so they decided to mix it up and use several different sizes throughout the entire space, including:
Main Bathroom Floor: 12″x24″
Lower Shower Walls: 8″x20″
Upper Shower Walls: 12″x12″ Sheets
Bullnose Accent Surround: 2″x12″
Shower Floor: 12″x12″ Sheets
The accent chosen is a stark contrast to the main Travertine tile with Australia Canberra color and 12″x12″ sized sheets, which are cut into 3″ rows.  This same tile is included in the 14″x14″ shampoo niche.  To compliment both tiles, the grout color chosen was Mobe Pearl.  One last addition to their shower was a great large shower seat with a 1¼" thick Granite top.
STUNNING SELECTIONS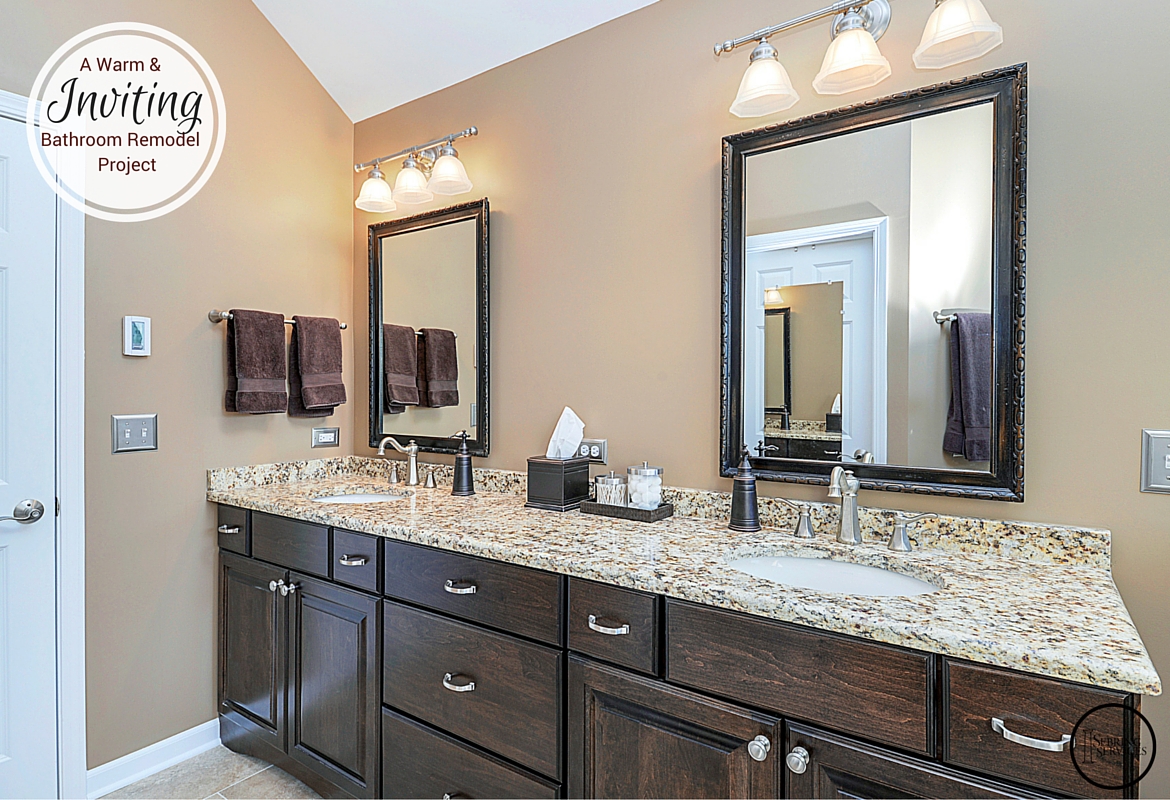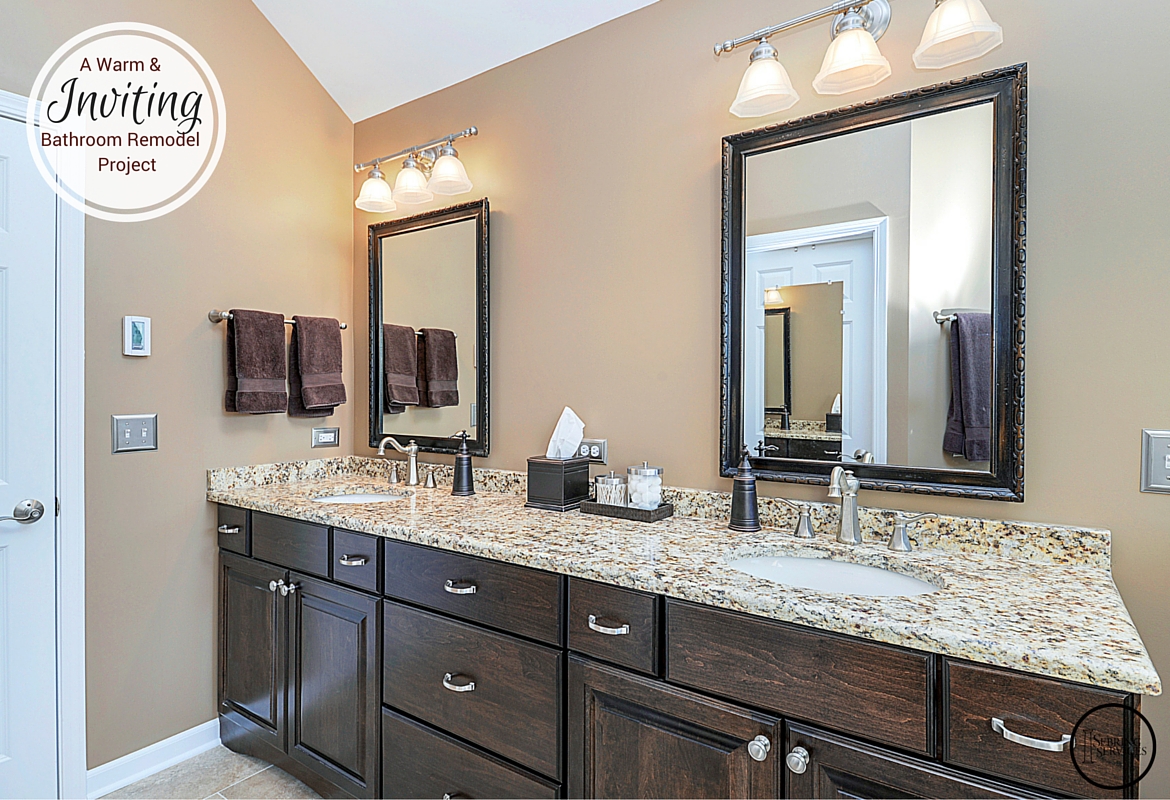 WarmlyYours radiant floor heating was added.  We used Tempzone Rolls, which are ideal for installation under tile, stone, marble, and nailed hardwood floors.  To control the in-floor heating, we added a WarmlyYours Thermostat SmartStat with AF Sensor.  The homeowner is able to customize their bathroom's comfort with this energy saving 7-day programmable thermostat which enables them to program 4 events for each day of the week. They can program their floors to be warm and inviting first thing in the morning or any time at all. This premium electronic control comes with an in-floor sensor and a digital display with a temperature reading to give them precise control over their floor's temperature.
The vanity is maple, full overlay door style, full extension drawers with soft close hinges in an espresso finish.
We went with a 1¼" thick Granite vanity countertop with a 3″ backsplash and 1 side splash.  The granite has two under mount sinks that were cut out.
AMAZING INLAYS
A band of dark tile breaks up the two sizes of wall tile.  This same tile is used for the shower faucet wall accent, where the tile is extended upward in a box layout from top to bottom, then surrounded with a travertine chair rail. The bullnose pieces were hand made in the field using the 8″ x 24″ wall tile.
Brushed bronze is their chosen bath accent for accessories, which matches the accent tile in the shower.
If you need additional bathroom tips, take a look at "7 Must-Know Bathroom Remodeling Tips", which will help you get your remodeling project underway.
Need some help designing or constructing that perfect bathroom, contact us and we'll help you get your project moving.