Downers Grove, IL has a distinct mix in the style homes that have been built through the years.  But many of those homes are now getting old and very dated.  If you talk to a Realtor, updating your kitchen is still one of the best methods of increasing the resale value of your home.  If you live in Downers Grove and your kitchen needs something new, here are 3 kitchen remodeling projects that we completed for some of your neighbors that may get you excited and ready to start the process of your own kitchen remodeling project.



Maxine's Kitchen Remodeling Project
Like most of our client calls, Maxine was sick of her old dated kitchen.  Her kitchen was very narrow and previous kitchen designers told her that it was too small for the island she had always wanted.  The drywall soffits took up much needed storage space made the kitchen feel smaller. Maxine wanted her new kitchen cabinets to go to the ceiling.
Painted Kitchen Cabinetry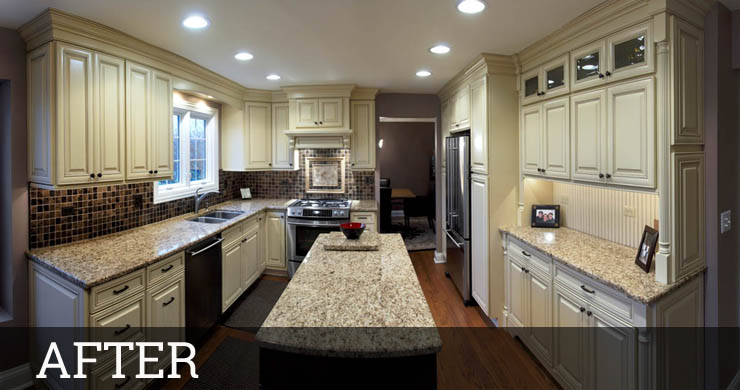 She loved white painted cabinets and was willing to spend a little more to get what she really wanted. Painted kitchen cabinets have become the most popular trend in kitchen remodeling projects in Downers Grove and all the surrounding suburbs.  We always recommend LED under cabinet lighting to help light food prepping areas.  The decorative hood was designed using a standard cabinet while adding crown molding and corbels.  Because we didn't custom design the hood, this helped keep costs down.  If you'd like to see more pictures of this Downers Grove kitchen remodeling project check it out on our Houzz Page.
Dennis & Julie's Kitchen Remodeling Project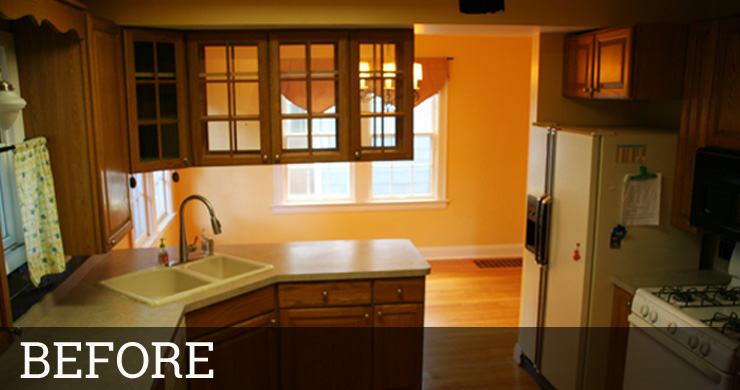 Dennis & Julie lived in an old home in Downers Grove that had a very tiny kitchen.  Because they had a large active family it made it feel even smaller.  Like Maxine's kitchen, there were a lot of ugly soffits surrounding the space which contributed to the small space.  They also had wall cabinets and a peninsula separating the kitchen and the dining area, which divided the space awkwardly.  The lack of lighting made the long Downers Grove winters feel even longer.
Merging Two Rooms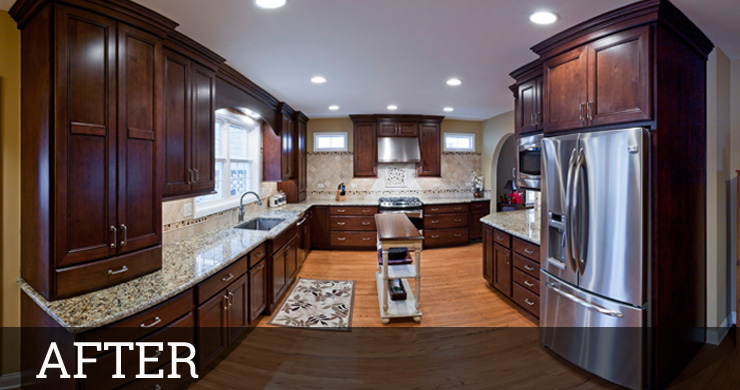 They were willing to move the dining area into an unused space near their family room.  This allowed us to utilize the entire space for a much larger kitchen.  The space was not wide enough to include an island, so they added a movable piece of furniture for extra food prep space that may also be moved when hosting large family gatherings.  We added a much larger window over the sink on the back wall of the house and replaced the large double window on the side wall of the house with two small transom windows on each side of the range. This added more natural light into the space.  If you'd like to see more pictures of this Downers Grove kitchen remodeling project check it out on our Houzz Page.
Ben & Ellen's Kitchen Remodeling Project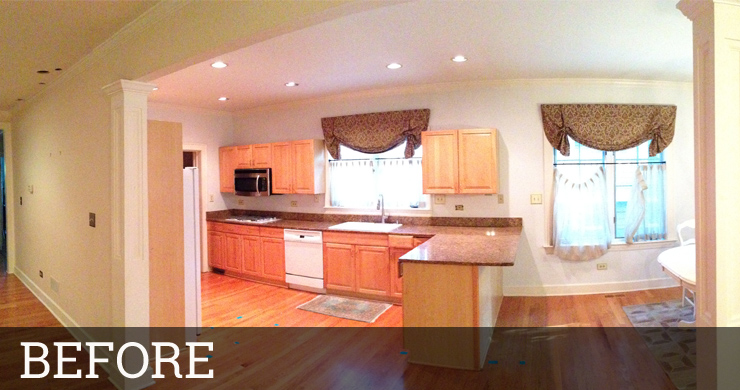 Ben and Ellen were previous clients of ours.  We finished their basement a few years before.  When Ellen called me she explained that she wanted to have the kitchen a part of the family room space.  So that when she prepares dinner, she can feel like she is in the same room as her daughter.  The wall dividing the family room and kitchen also made the space feel smaller.
Wide Open Kitchen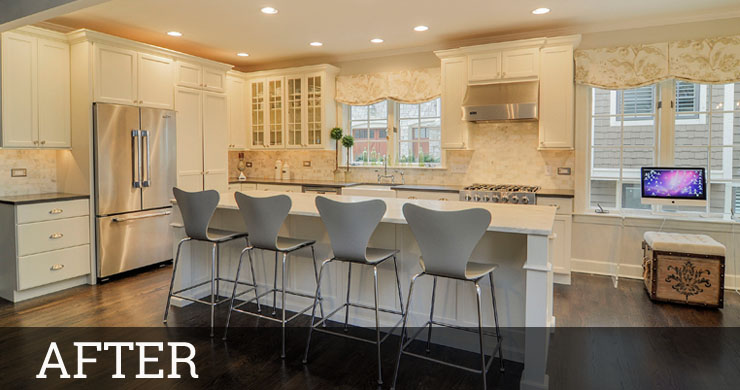 When designing the kitchen, Ellen & I talked about including a large eat-in island.  She also loved white, shaker style cabinetry, so we incorporated a transitional style of décor.  Next to the fridge, we created a door to access the walk-in pantry.   She was very particular about her island countertop color and we searched all over for just the right stone.  The perimeter countertops are quartz, the island is marble.
Watch the video to hear from Ellen:

If you'd like to see more pictures of this Downers Grove kitchen remodeling project check it out on our Houzz Page.
As you can see, there are a lot of options when it comes to designing your kitchen. The best thing you can do is to work with an experienced design professional.  Looking for help in achieving your dream kitchen?  Check out the other articles on Kitchen Remodeling or contact us.