While growing up in Glen Ellyn, a finished basement was a great place to hang with friends.  Many of us live in homes where space is tight and we try to utilize any extra room that is available. The desire to maximize available space has driven homeowners to finish their basement with renewed intensity in the last 15 years.  Sebring Services  has designed and finished more than 400 basements during this time.  The possibilities with what you can do with your space are endless! It could be the perfect place for a cool teenage hangout, a functional home office or even a much-needed kid's playroom.  Here are three basement finishing projects that we have completed for your neighbors right here in Glen Ellyn.
Dave & Tara's Basement Finishing Project
Dave & Tara had many things they were looking for in their finished basement.  They have younger kids and wanted a place where the kids would want to go and play.  They also needed a space for out- of-town guests to stay during the holidays.
The Beverage Center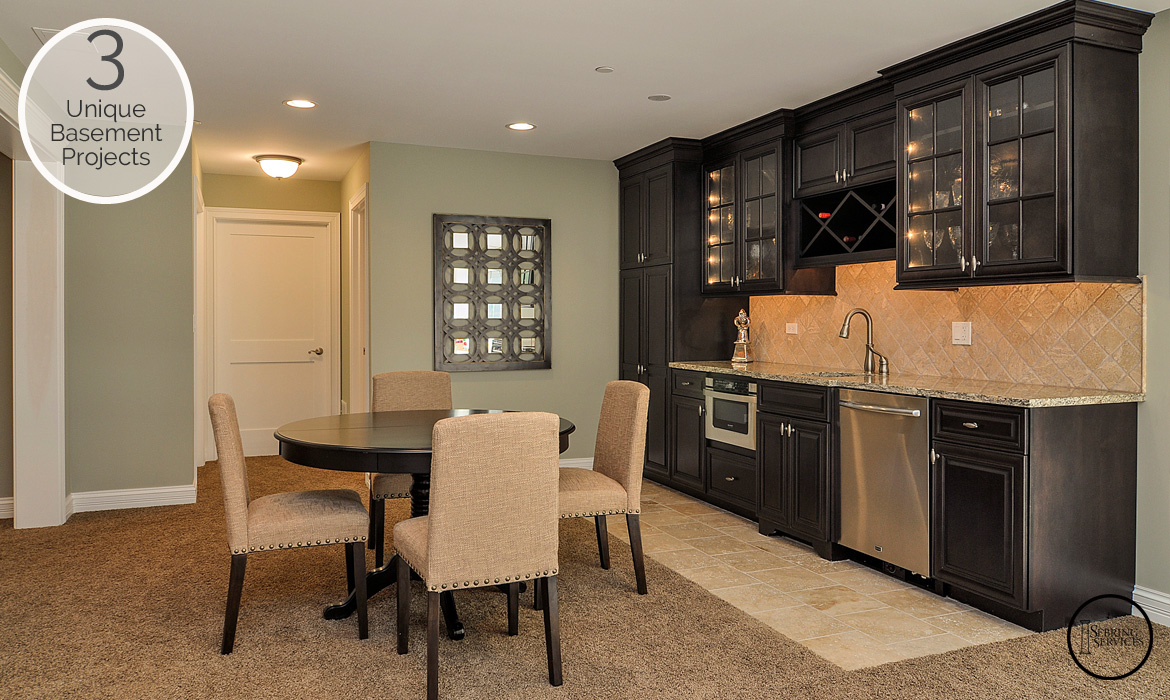 The wet bar, (or what Sebring Services like to refer to as a beverage center), was designed to add a place for both family and guests to enjoy a drink or a snack.
A Second TV Watching Area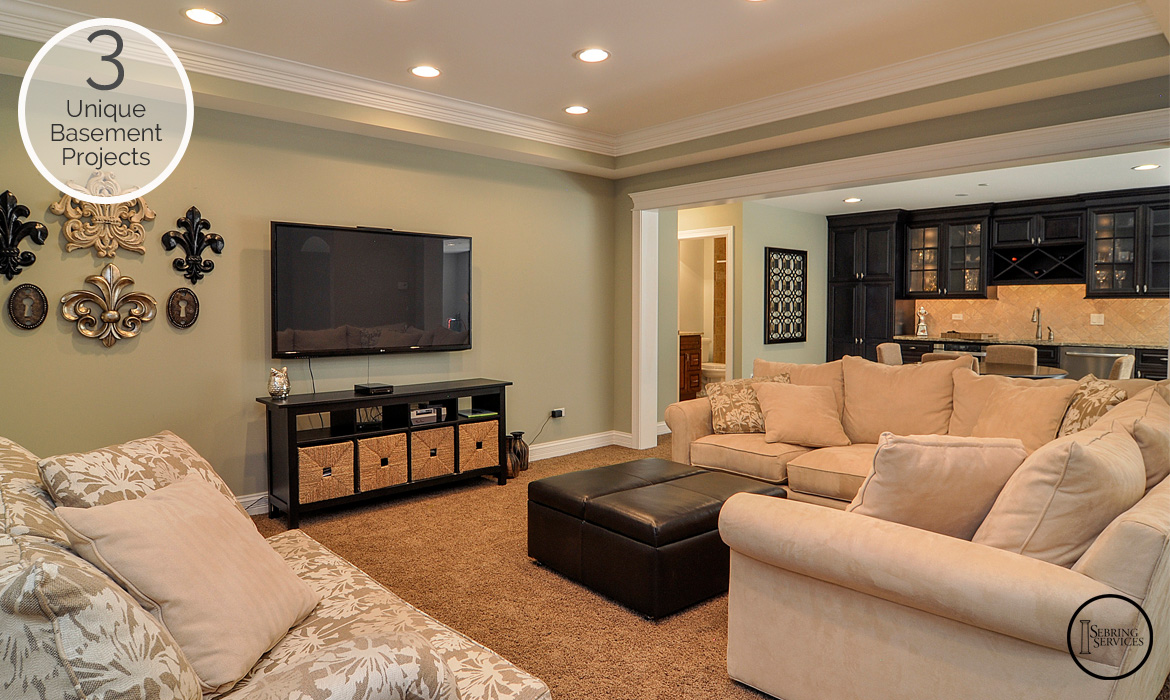 After a long day at work it's nice to be able to go down to a cozy basement to watch a movie as a family.
Finishes to Match the Rest of the House
A finished basement is an extension of your home so the finishes should carry through.  As an example; Sebring Services will identify and match the interior doors and millwork to your new finished space.  All windows and doors are trimmed to match the rest of your home.
Quick Tip:  If you have enough height in your basement, it is nice to create a raised ceiling look out of drywall. Installing crown molding can be a beautiful addition.  Just make sure you have at least an 8 foot ceiling height.  If you install crown molding in a space that that has a ceiling height lower than 8 feet, it will draw attention to ceilings that are lower than normal.
Guest Bathroom
The bathroom was finished for both family and guests.  It's no fun for out-of-town guests to have to walk up to the second floor to take a shower.  Not to mention the disruption of your family's normal morning routine.  If you would like to see more pictures check out Dave & Tara's Finished Basement Houzz Portfolio.
Erik & Beth's Finished Basement Project
Before Erik & Beth finished their basement, they built a large addition on the back of their home.  Knowing that they would finish the basement someday, they designed the new basement space to include high ceilings, look out windows and a large patio door to their backyard.  Needless to say, this great new space soon became the new hangout for their teenage boys!
Great Natural Light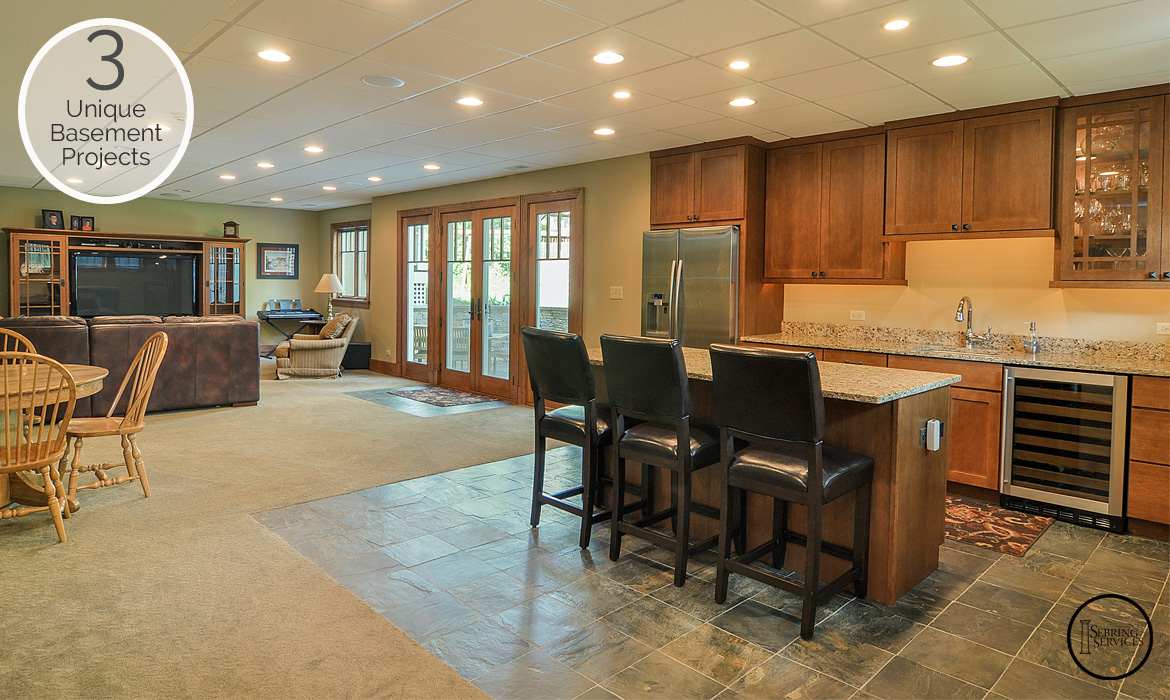 Having so much natural light really makes this basement feel comfortable.  We added recessed lighting to light up the space at night.
An Area to Eat (and Not Make a Mess)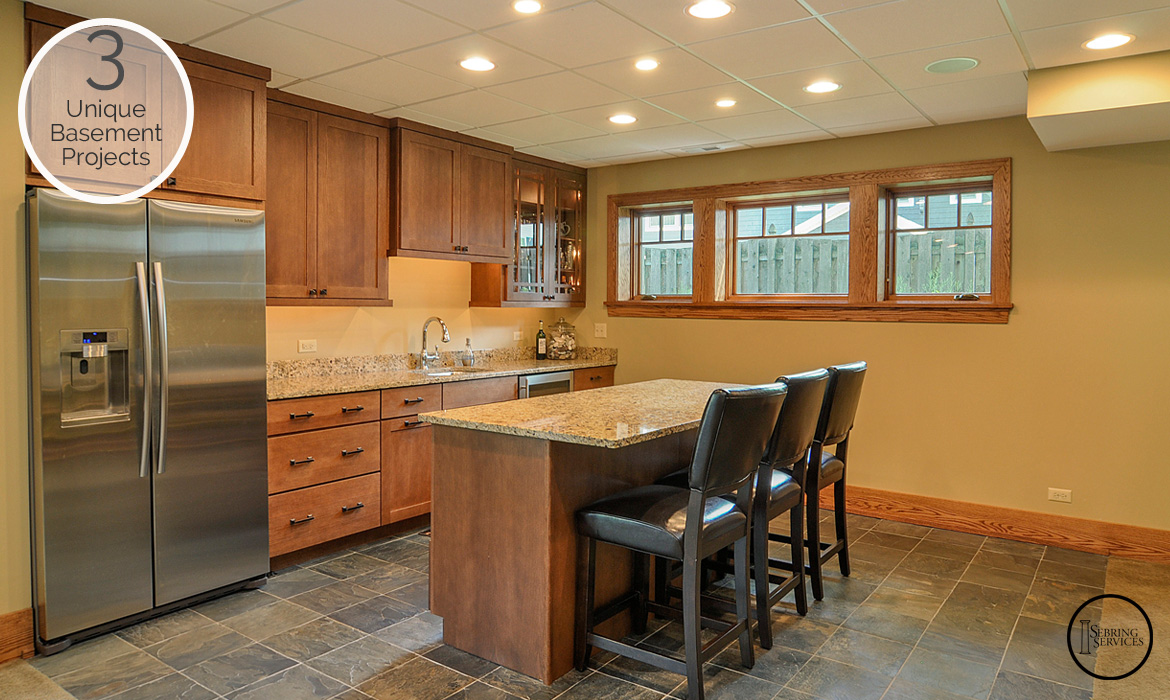 Slate tile & rift sawn oak cabinets were installed to create a wet bar or kitchenette.  New Venetian Gold granite was installed to accent the color of the stained cabinets. A full fridge was added for not only water and sodas but for extra fridge & freezer space for parties.
A Homework Station & Book Case

A custom built desk and bookcase were created in a transition area of the basement.  The rest of the house was designed in the craftsman style, so that style was continued throughout the basement.  If you would like to see more pictures check out Erik & Beth's Finished Basement Houzz Portfolio.
Chris & Sara's Finished Basement Project
Chris & Sara recently built their house with the intention to utilize their basement as extra living space.  They made sure to have taller ceilings, so when they finished their basement it would feel as open as the rest of their house.
Open to the Upstairs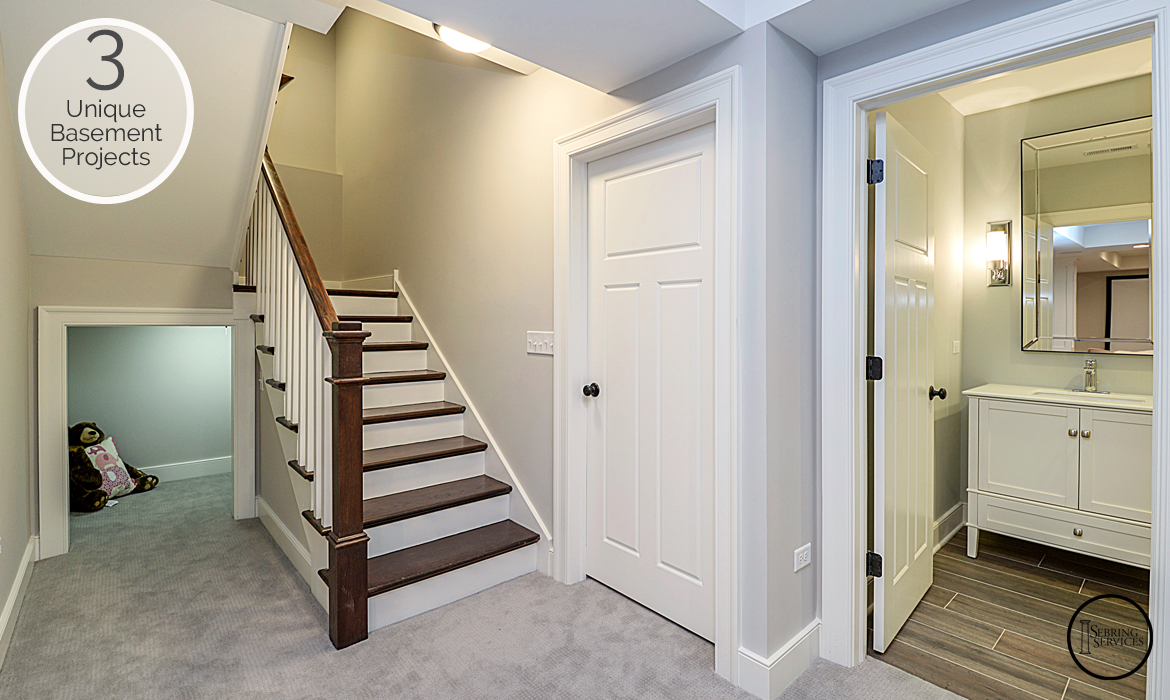 The ability to have an open stairwell helps connect the basement to the 1st floor.
No Need for that Gym Membership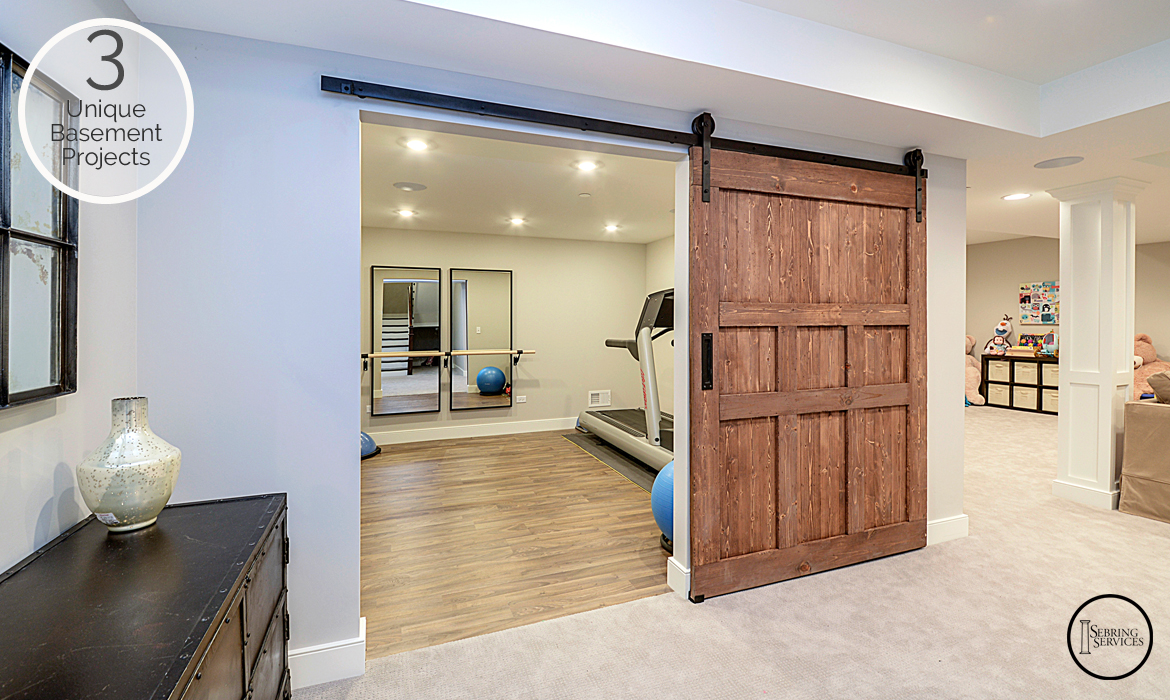 Adding a space to workout in your home not only saves money on your gym membership but the convenience of having that space in your house will motivate you to stay fit.
The Kids Space Near the TV
When designing your basement, make sure to locate the TV area near the kids play area.  Kids want to be in the same room as their parents.  This will help prevent your kids from bringing all their toys into the TV area.  If you would like to see more pictures check out Chris & Sara's Finished Basement Houzz Portfolio.
As you can see, there's a lot of options when it comes to planning your finished basement. The best thing you can do is to work with an experienced professional. Looking for help in achieving your dream basement? Check our article on Basement Remodeling 101: Important Considerations. or  contact us for assistance today!